B-52 Bombers Pounding Islamic State at Faster Pace, General Says
by
Cold War-era nuclear bomber dropping precision-guided bombs

Bombers have flown almost 140 sorties since mid-April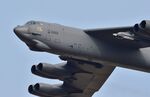 Cold War-era B-52 bombers -- best known for flying nuclear-armed patrols and carpet- bombing in Vietnam -- have dropped almost 700 munitions on Islamic State targets since beginning operations in April over territory the group claims, according to the U.S. Air Force's chief of staff.
"They've been operating at a pretty good battle rhythm -- kind of settled into that routine," General Mark Welsh said Tuesday in his final scheduled interview before retiring at week's end.

An undisclosed number of the heavy bombers made by Boeing Co. are operating out of Al Udeid Air Base in Qatar, the first time the B-52 has been based in the region in 26 years. Welsh said the planes are striking targets and are available to support ground troops, including so-called dynamic targeting of objectives found during patrols.
"They have the ability to deliver the same precision" weapons as smaller aircraft, Welsh said. The bombers carry 500-pound laser-guided GBU-12 bombs as well as GPS-guided Joint Direct Attack Munitions. The U.S.-led coalition dropped 2,582 munitions over Iraq and Syria in April and 2,206 in May, according to data from Air Forces Central Command.
Next Bomber
While the operations against Islamic State show continued value for the B-52, which was declared operational in 1955, they also help the Air Force demonstrate the range of potential missions it's advertising for its coming bomber, the B-21, to be built by Northrop Grumman Corp.
During the first month of operations after arriving from their home base in Barksdale, Louisiana, the missions of the B-52s "were a little bit limited" as the Air Force built up the infrastructure needed for sustained operations, such as weapons storage and maintenance, Welsh said.
In the last month, however, the B-52 attacks have accelerated, and the bombers had flown almost 140 sorties as of Monday in support of operations against Islamic State.
Two B-52s conducted two strikes Monday, dropping eight weapons on bunkers, tunnels and a command post near Qayyarah and Tal Afar in Iraq to disrupt Islamic State operations, according to U.S. Central Command.
The aircraft are benefiting from upgrades such as installing Sniper targeting pods made by Lockheed Martin Corp. and from training crews to perform close-air support.
"All that has happened over time, and a lot of airman have been involved in that," Welsh said. "It shows on the battlefield."
Before it's here, it's on the Bloomberg Terminal.
LEARN MORE