Yen's Slide Means It Fails to Beat the Longest Rally of Abe Era
By and
Currency is hedge for Brexit but gains had gone too far: CIBC

Markets see 'little chance' of intervention on yen, ANZ says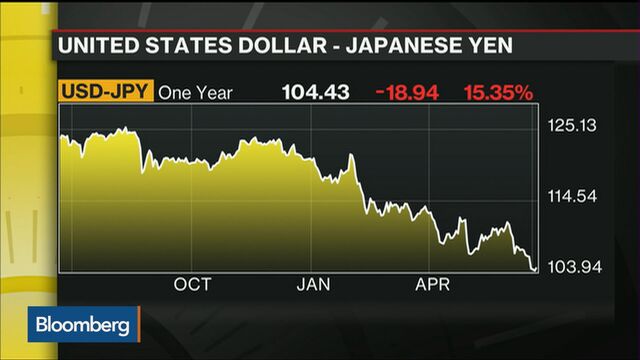 The yen fell, halting a rally that matched the longest under the reign of Japanese Prime Minister Shinzo Abe.
The currency, a traditional haven, had strengthened for seven days straight amid anxiety over the outcome of this week's U.K. referendum on European Union membership. Yet strategists said the yen had climbed too far, too fast, and was dropping following a recovery in global stocks, a sense that the British "Leave" campaign's lead had dissipated and as markets became less volatile.

"Being long-yen is an obvious hedge for market volatility, and the last two weeks have seen yen longs being rebuilt to reflect uncertainty," said Jeremy Stretch, head of foreign-exchange strategy at Canadian Imperial Bank of Commerce in London. "I would suggest that it has gone too far -- unless we do indeed get a Brexit."
Being long a currency is a bet it will strengthen.
The yen slipped 0.6 percent to 104.59 per dollar as of 9:32 a.m. in New York. It strengthened every day from June 10-20, a seven-day run that matched the advance through April 11 this year.
They're the longest winning streaks since Abe became premier in December 2012. Before that, its longest gain was in September of the same year.
Japan's currency reached 103.55 per dollar on June 16, the strongest level since August 2014.
No Intervention
Though there's concern "dollar-yen is oversold at current levels," traders see "little chance of FX intervention by Japan" to weaken its currency, said Khoon Goh, a senior foreign-exchange strategist at Australia & New Zealand Banking Group Ltd. in Singapore.
Japanese Finance Minister Taro Aso said on Tuesday that the government won't intervene in currency markets without due consideration. A weaker currency may help the nation achieve its goals of boosting growth and staving off deflation.
With two days to go before Britons vote on whether to remain in the EU, the result remained too close to call, with different polls showing leads for both sides of the debate. The pound rose 0.2 percent to $1.4734, extending its biggest two-day gain in more than seven years.