Why Chinese Rating Firm Thinks Russia Is Safer Bet Than U.S.
By
Dagong says Russian, Chinese sovereign debt is safer than U.S.

Rating companies faced questions after 2008 financial crisis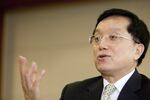 One of China's three biggest rating companies says it wants to strip political bias from the business of assessing sovereign credit risk. That doesn't mean the outcome will be any less jarring.
Even with Russia mired in its second year of recession and whipsawed by the crash in oil, Dagong Global Credit Rating Co. still has its foreign-currency government debt at A with a stable outlook, the sixth-highest investment level and one above the U.S. China, whose economy last year grew the slowest since 1990, carries a sterling AAA credit rating from Beijing-based Dagong.
"Actually credit ratings are largely politically biased," Guan Jianzhong, the firm's chairman, said through a translator during an interview in St. Petersburg, Russia. "Dagong is only considering the debt repayment capacity of the central government."
The narrower focus, which looks less at factors like the strength of institutions and the investment climate, could be a balm for President Vladimir Putin, who's called the rankings given to his country an "outrage" that increased borrowing costs for both domestic companies and the government. Capping years of criticism and the sovereign's downgrades to junk in 2015 by Moody's Investors Service and S&P Global Ratings, Russia tightened rules for international credit assessors and formed a company of its own.
'Own Interests'
"In the western countries, they use the credit rating as a tool to protect their own profits, their own interests," Guan said. "And that's why we see in 2008 the financial crisis is partially because of a credit crisis, because the wrong credit rating was used."
It's a sentiment shared across emerging markets and beyond. Rating companies have faced increased regulation after a U.S. Senate panel found they provided inflated grades for risky mortgage bonds, helping cause the credit crisis in 2007 and 2008 that tipped the global economy into a recession. Officials in countries from Brazil to Poland have also questioned downgrades they deemed unjustified or politically motivated.
For the latest on Chinese debt, click here.
Privately-held Dagong, set up in 1994, isn't formally tied to the Chinese government. It started sovereign ratings in 2010 in a bid to break the monopoly of U.S. rating firms, according to the company's website, mirroring the government's strategy of gaining greater influence on the global stage.
Dagong provides ratings for more than 110 countries, Guan said. It lists "pragmatic dialectical materialism" as one of the key principles of its corporate culture, a reference to a doctrine developed in the Soviet Union that has its roots in Marxism.
In 2013, Dagong cut its sovereign rating for the U.S. to A- from A after President Barack Obama signed legislation raising the federal debt limit. While S&P stripped the world's biggest economy of its top grade in 2011, the U.S. still boasts the highest ranking from Moody's and Fitch Ratings.
By contrast, Fitch is the only major credit assessor to still put Russia's foreign-currency debt in investment territory. As tensions flared over the crisis in Ukraine and the U.S. and Europe slapped sanctions on some of Russia's biggest companies, top officials including Finance Minister Anton Siluanov blamed "political factors" for the downgrades.
Market Sentiment
Russia has been regaining the confidence of investors as oil prices stabilized, selling its first Eurobond since 2013 last month. Its cost to borrow has fallen to 208 basis points over U.S. Treasuries, 381 less than last year's high at the end of January. Based on risk indicators such as revenue, spending and debt due in 12 months, the probability that Russia, China or the U.S. will default on their obligations within a year is assessed as low, according to data compiled by Bloomberg.
Russia's government hasn't defaulted since 1998. Congress took the U.S. to the brink of default in 2011 and 2013, with lawmakers passing a two-year budget plan in 2015 that signaled a possible end to fiscal battles that have marked most of Obama's years in office.
Total sovereign debt in the U.S. is at $15.6 trillion, more than triple the combined obligations for China and Russia. State debt as share projected economic output in 2016 is estimated at 20.3 percent for Russia and 38.2 percent for China, compared with a 84 percent ratio in the U.S.
Greater Risks
"Someone may think that the U.S. could print more money because U.S. dollars are accepted internationally," Guan said. "But that's why they can have risks more easily, because they are transforming bad loans to the whole world."
The threat of a debt crisis in Russia is "smaller and lower" than in the U.S., according to Guan. The government's ability to repay debt hasn't been affected by the sanctions, which is why Dagong took no action to change its rating, he said. Gazprom PJSC, Russia's state-run gas exporter, is performing so well compared with its competitors that the Chinese firm has keep its grade at AAA.
America's "debt is much higher than its capacity to pay and to make profits," Guan said. "China, as you know, is a big creditor to the U.S. So how could the U.S. be higher than China? It's abnormal."
Russian 'Bridge'
Dagong, which plans to cooperate with Russia's new national credit rating company, is also preparing to open a subsidiary in the country to take advantage of increased demand for its services. "What we're going to do is to bridge Russia with the Asian capital market," Guan said.
Dagong believes rating companies can help prevent the repeat of another global crisis by pointing investors to "safe" places to invest money.
"The whole international society hasn't given the full concern to the wrong Western credit system and there's still a risk of another financial crisis," Guan said. "That's why it's important to let the society know what is the right credit rating and what's the wrong credit rating."