UN Sounds Alarm on Syrian Refugee Bottleneck in Northeast Jordan
by
World Food Program official warns of 'dire humanitarian need'

Faster security screening urged as terrorism worries persist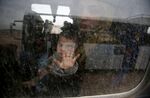 The buildup of Syrian refugees on Jordan's northeastern border requires urgent international attention to avert a humanitarian disaster as the Jordanian government seeks to prevent the infiltration of terrorists, said an official of the United Nations World Food Program.
Mageed Yahia, the WFP's country director for Jordan, said Jordanian authorities need help to accelerate screening of around 60,000 displaced Syrians stranded in the desert. WFP staff in Jordan travel 160 kilometers daily in four trucks to deliver vegetables, fruit and canned food to the refugees, who cross an earthen barrier running along the border to receive their rations before returning to camps in a no-man's land, he said.
"There is a very clear, dire humanitarian need," Yahia said in an interview on Tuesday in Brussels. "We need to advocate with the Jordanian authorities to let this population inside Jordan while recognizing that there are legitimate security concerns and help the Jordanians to screen this population."
This particular humanitarian emergency is a microcosm of the migrant crisis resulting from the Syrian civil war, which has displaced around half of the country's population, led millions of Syrians to seek refuge abroad -- including in Jordan and the European Union -- and stoked fears that Islamic State is taking advantage of the human flows to spread terrorism.
For an overview on Europe's refugee crisis, click here
Early on Tuesday, in the remote area where the WFP assists the 60,000 stranded Syrians, a car bomb struck a Jordanian military post in an attack that left six dead and 14 wounded. Yahia said the refugee population has attracted black-market traders, thieves and terrorists.
"This is a whole Wild West situation," he said. As a result of the lack of security, the WFP's 25 staff members who travel to the area every day leave behind none of the temporary infrastructure for distributing supplies, instead setting it up from scratch each visit, according to Yahia.
The EU, which plans to strike migration-control agreements with countries such as Jordan amid Europe's biggest refugee wave since World War II, could provide "technical assistance" to Jordanian authorities on security screening to speed up the process, Yahia said. With summer starting, officials must act quickly to relieve the bottleneck, he said.
"The more we get into the summer, the more harsh the situation will be," said Yahia, a Sudanese national who has worked for the WFP for 19 years in countries including Pakistan, Afghanistan and Rwanda.
Syrian Refugees
The WFP predicts the number of Syrian refugees stranded in northeastern Jordan will rise to 100,000 by end-2016 and the cost of its operations there this year will total $43 million, he said.
Because of the logistical challenges in the region, the WFP ends up spending $70 per refugee a month there compared with $26 per refugee a month in camps in Jordan, according to Yahia.
The displaced Syrians stranded along Jordan's northeastern border would, once they are let in, go to Jordanian camps that are already home to around 120,000 refugees from Syria. Yahia said the Jordanian camps either have adequate space for more arrivals or could be expanded to accommodate them.
He said the international community should also give thought to two other options for this group of refugees: moving them to a border-crossing point that's more accessible and finding them safe locations within Syria.
Before it's here, it's on the Bloomberg Terminal.
LEARN MORE