U.S. Stocks Edge Higher Amid Energy, Tech Gains Before U.K. Vote
By and
Fed chair signals caution on outlook, overseas threats

Odds point to Britons voting to remain in European Union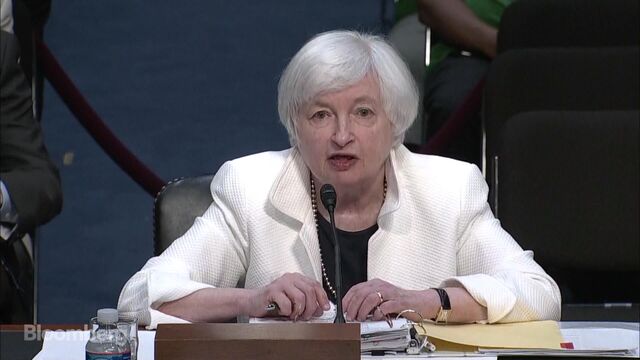 U.S. stocks advanced amid speculation Britain will vote to stay in the European Union, as energy producers and technology companies led the S&P 500 Index to a back-to-back gain.
Equities climbed after zigzagging throughout the day, bolstered by a third-straight increase for oil and gas companies, the longest in two months even as crude prices dropped. Microsoft Corp. rallied 2.2 percent and Apple Inc. added 0.9 percent to lead technology shares higher. Falling biotechnology stocks dragged down the health-care group, and raw-materials companies slipped as the dollar rose for the first time in five sessions to weigh on commodities prices.
The S&P 500 climbed 0.3 percent to 2,088.90 at 4 p.m. in New York, bringing its two-day gain to 0.9 percent. The Dow Jones Industrial Average rose 24.86 points, or 0.1 percent, to 17,829.73. The Nasdaq Composite Index also added 0.1 percent, erasing an earlier 0.2 percent retreat. About 6.2 billion shares traded hands on U.S. exchanges, 10 percent below the three-month average.
"This is very much like the Greece situation, every time a poll comes out about what's leading Brexit, you see a slight shift in the market that way," said Michael Antonelli, an institutional equity sales trader and managing director at Robert W. Baird & Co. in Milwaukee. "Nothing is going to happen until the vote. Janet Yellen spoke today and it got cursory coverage and interest from the people I spoke with."
Federal Reserve Chair Janet Yellen signaled more caution on the economic outlook in testimony today before lawmakers, saying she and her colleagues were on watch for whether, rather than when, the economy would show clear signs of improvement. Yellen said the prospect of slow productivity growth continuing "into the future" can't be ruled out, while also mentioning several potential threats to the economy from outside the U.S., including those from uncertainty over China's expansion and the Brexit vote.

The central bank last week signaled a cautious approach to future rate hikes, scaling back its projections for the next two years. Traders have since cut back their bets on higher borrowing costs, not pricing in even odds for an increase until February 2017.
"I'm hearing a dovish tone," said Thomas Garcia, head of equity trading at Thornburg Investment Management Inc. in Santa Fe, New Mexico. "At this point I don't think anyone thinks she will raise rates. Investors aren't going to be doing too much in front of Brexit, and I think Yellen is being careful of what she says in front of it as well."
The S&P 500 added to a bounce from the gauge's worst weekly drop since April, a slide spurred by worries that Britain would secede. That halted a run-up from late May to within 0.6 percent of an all-time high on June 8, in an area above the 2,100 level where previous rallies have faltered in the past year. The index advanced yesterday after polls showed the U.K. campaign to stay in the EU gaining ground, and closed Tuesday less than 2 percent from its record set 13 months ago.
Speculation that central banks' efforts to boost global growth are losing their potency, valuations stuck above the three-year average and successive quarters of falling profits have added to the recent hurdles for stocks, as well as anxiety over the looming U.K. vote. The Fed last week painted a mixed picture on the U.S. economy, giving investors second thoughts on whether growth will remain strong enough to support higher equity prices.
Brexit Polls
Despite recent optimism that Britons will opt to stay in the EU, the referendum remains too close to call. New polls were split: A YouGov poll for the Times newspaper published late Monday showed a lead for the "Leave" campaign, while a survey by ORB for the Daily Telegraph indicated "Remain" was ahead. Still, odds at betting shops showed only about a one-in-four chance Britain will choose to secede, though they crept up slightly Tuesday.
"The polls are taking effect and everybody's washing out the negativity from last week," Michael Block, chief strategist at Rhino Trading Partners LLC in New York, said by phone. "Soros was out overnight warning the pound will be down 20 percent so people keep trying to get short and they keep burning their fingers. There's dysfunction otherwise and not a lot of fundamental conviction out there."
In Tuesday's trading, energy, technology and phone companies were the strongest performers among the S&P 500's 10 main industries, increasing more than 0.6 percent. Raw-materials, health-care and consumer discretionary shares slipped at least 0.2 percent. The CBOE Volatility Index rose 0.6 percent to 18.48. The measure of market turbulence known as the VIX is up 30 percent this month, the most since a record surge in August.
Marathon Oil Corp. and Kinder Morgan Inc. rallied more than 3.8 percent for the best gains in energy as 36 of 38 members advanced. Halliburton Co. gained 1.9 percent. Meanwhile, crude futures lost 1.1 percent as markets awaited U.S. stockpile data and the Brexit vote.
Phone companies in the benchmark rose to the highest since October 2007, with CenturyLink Inc. gaining 1.9 percent to a five-week high. Verizon Communications Inc. and AT&T Inc. advanced more than 0.6 percent.
Microsoft Rallies
Microsoft's biggest gain in almost a month back-boned the tech group's third climb in four days. Symantec Corp. increased 2.2 percent, extending a rally to seven sessions, its longest in almost two years. Red Hat Inc. added 1.9 percent before its earnings report tomorrow, and Adobe Systems Inc. rose 1.8 percent.
Airlines rallied for a third consecutive day. United Continental Holdings Inc. advanced 3.4 percent after the carrier said it will find $3.1 billion in savings and extra revenue by 2018 as it attempts to close a persistent profit gap with competitors. Alaska Air Group Inc. and Delta Air Lines Inc. added more than 1.5 percent.
Celgene Corp. and Allergan Plc lost at least 1.5 percent as a slump in biotechs sent the health-care group lower. Regeneron Pharmaceuticals Inc. continued its two-week slide, dropping 2.1 percent to its lowest price since October 2014. The shares have posted declines in 10 of the last 11 sessions.