Trump Lagged Far Behind Clinton in May Fundraising
Trump ended May with $1.3 million on hand compared to Clinton's $42.5 million.
By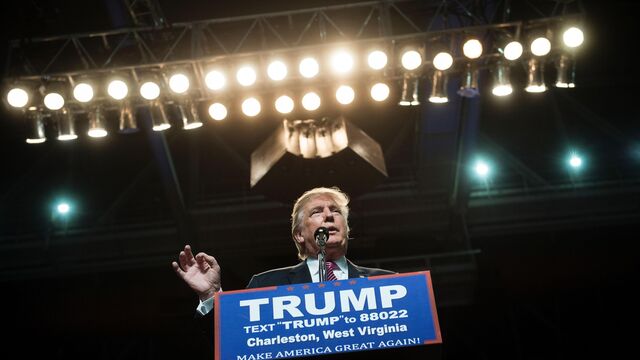 Donald Trump collected $3.1 million in donations for his presidential campaign last month, about what Hillary Clinton collects in three days, underscoring the fundraising challenge the billionaire candidate faces.
Trump's campaign ended May with just $1.3 million on hand even after getting another $2.2 million loan from the candidate, according to his Federal Election Commission report filed Monday. In contrast, Clinton, a Democrat, raised $26.4 million in the month and had $42.5 million on hand on May 31, her filings show.
The reports span a period when Trump vanquished the last of his Republican opponents and shifted tactics for a general-election contest. After racking up primary victories mostly on free publicity and more than $40 million of his own money, he said he would rely on outside donors to finance his expected battle with Clinton.
Since then, Republican supporters have been scrambling to assemble the kind of infrastructure that Clinton has had in place for more than a year.
"Without a finance team coming out of the primary, you have to start from ground zero. That's unusual," said Gaylord Hughey Jr., a lawyer in Tyler, Texas, and a top fundraiser who joined Trump's effort only a few weeks ago. "It's unusual and it's a heavy task."
The Trump campaign is facing one of its most challenging moments, with most polls showing the Republican trailing Clinton in battleground states. Trump's fundraising news came on the same day that he fired his campaign manager, Corey Lewandowski.
Trump's campaign began soliciting money in earnest in late May, starting with an event in California that campaign officials said raised $6 million for a joint fundraising committee that benefited his campaign and Republican party committees.
But there's little sign that the event kicked off an avalanche of support. Trump's campaign raised less money in the last week of May than it did in the first week. The Republican National Committee reported getting some big checks around that time from prominent Trump friends such as the real-estate investor Thomas Barrack and casino owner Phillip Ruffin. But the total amount it collected in May, $13 million, is just slightly ahead of its tally in April. By comparison, the RNC raised $34 million in May 2012 and $24 million in May 2008, during the last presidential election years.

Trump has made contradictory remarks in the past few weeks about fundraising. In early May, he told the New York Times he planned to solicit donors and said, "I think we'll raise $1 billion." Less than a month later, he told Bloomberg he saw no reason to raise that much and suggested he may not gather even half that amount, relying instead on news media coverage as he did during the primary contests.
``Politicians are the only ones that can spend $1 billion,'' Trump said Tuesday the Fox & Friends program on Fox News. ``Hillary Clinton will spend $1 billion of Wall Street money and money from the Middle East.''
At a rally in Las Vegas on June 18, Trump said that much of the money he's raising goes to the party and warned that if Republicans don't really get behind him, he might stop raising money altogether. "I'll just keep funding my own campaign," he said.
Trump said Tuesday that he would be willing to self-fund his campaign if he does not receive adequate support from Republicans. He said he has ``a lot of cash'' and that while he may run an ``insurgent'' campaign, he'd rather cooperate with his party.
``I need support from the Republicans,'' he said. ``In some ways I get more support from Democrats than I do the Republicans.''
Trump said he helped the party raise $12 million this past weekend during fundraising events in several states.
In addition to Clinton's own campaign, which has raised $232 million since she began her run last year, the former secretary of state benefits from a group of well-financed super-political action committees, which operate independently of her campaign and can accept checks of unlimited size. The main super-PAC, known as Priorities USA Action, gathered $12.1 million in May from former media executive Fred Eychaner,  hedge-fund manager Donald Sussman, and others.  It ended the month with $52 million on hand. 
So far in June, Priorities has bombarded Trump with more than $10 million in negative ads in battleground states, FEC records show, part of a planned outlay of more than $100 million between now and November. Neither Trump nor any of the super-PACs supporting him have yet mustered anything near that kind of firepower on his behalf.
The super-PACs' problems have mirrored Trump's own. During the primary contest, he loudly disavowed these groups and accused his opponents of being in thrall to the big donors who funded them. Now that he's signaled that he welcomes their support, several groups of supporters are jockeying to collect these donations. None has emerged as the premier conduit, and some donors say privately they're waiting for clarity before they'll give.
One of the earliest pro-Trump groups to get underway, Great America PAC, said it raised just $1.4 million in May. Another was set up with help from Trump's friend Barrack, but isn't required to report on its fundraising progress until next month. Barrack said in an interview on CNN that he had rounded up $32 million in commitments for the PAC.
It's possible that Trump had more success raising money in the first weeks of June, and that he's already narrowing the gap with Clinton. In recent days, he swung through Texas and collected another $12 million to $15 million, Lewandowski said in an interview on CNN  on Monday. 
Roy Bailey, a Texas fundraiser who helped organize a Trump event in Dallas last week, said he's confident that the candidate can raise as much money as he needs. 
"The campaign set a high goal for Dallas, and the fact that we more than doubled that says a lot for the support for Donald Trump and the coalescing of donors," Bailey said. "There's been this narrative that he's not raising money. We absolutely debunked that."

Toluse Olorunnipa contributed.