The Buddhist Monk Using Age-Old Wisdom to Shape Robotics
ZMP may hold IPO as soon as September, person familiar says.
By and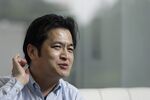 Hisashi Taniguchi took a sabbatical from developing software for driverless taxis and drones to pilgrimage to a Buddhist temple in western Japan. He shaved his head, donned black robes and studied to become the shrine's leader.