markets
Solving Italy's $408 Billion Bad Loan Problem 30 Cents At a Time
Non-performing loans are a drag on Italy's banks and economy, and there's no quick fix.
By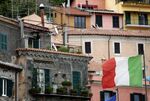 It will only cost 30 cents to solve Italy's bad debt problem — 30 cents in every euro of the country's 360 billion-euro ($408 billion) pile of loans past due, that is.
That's the difference between what Italian banks think their non-performing loans are worth and what investors are willing to pay for them. Reconciling these disparate valuations is key to clearing the gridlock in the European Union's fourth-largest economy.
Morgan Stanley's Srikanth Sankaran says current prices on secured NPLs, i.e. those backed by collateral such as real estate, are between 20 to 30 cents on the euro, while unsecured loans can attract prices as low as 5 cents. Meanwhile, banks are marking the loans on their books for sale at around 50 to 65 cents, he said.
This dynamic exists because investors who look at these loans — typically private equity firms and hedge funds — discount estimates of their value to take into account Italy's notoriously slow and cumbersome insolvency procedures for bad loans.
The consequence is that Italy's banks are incentivized to keep hold of them because if they sold them they'd incur a loss and might have to tap the market for more capital.
"The gap gets bridged if investor assumptions about recovery value and timelines improve, or if banks aggressively set aside more provisions for NPLs," said Sankaran, who is Morgan Stanley's head of European credit and asset-backed securities strategy. "To the extent that it is the latter, banks will need to raise additional capital."
The mountain of bad or doubtful loans in Italy's financial system is equal to about a quarter of the county's gross domestic product. Here's what that looks like: (courtesy of a PwC report this month entitled 'The NPL volcano is ready to erupt').  

Resolving the issue is a top priority for Prime Minister Matteo Renzi who has been pushing a package of reforms to modernize Italy and spur growth since he took office in 2014.
Initiatives such as the state-backed rescue fund Atlante may help. Still, more is needed and more quickly — there's a volcano on the boil. 
Before it's here, it's on the Bloomberg Terminal.
LEARN MORE