SoftBank's Arora Steps Down as Son Chooses to Stay in Charge
by , , and
Company's president departs after Supercell purchase closed

Some shareholders have questioned Arora's track record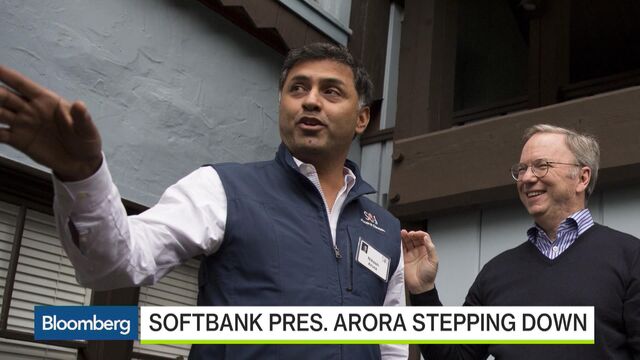 Nikesh Arora, the heir apparent at SoftBank Group Corp., will step down from the Japanese company in a surprise departure after founder Masayoshi Son made clear he wouldn't get the top executive role in the near future.
The former Google executive had come under fire from some investors over his qualifications for the job. But Son said those criticisms played no part in the departure. Rather, the 58-year-old founder said that he wants to remain at the helm of the company for a few more years, while Arora aspired to be chief executive officer more quickly. Arora, 48, will remain an adviser to SoftBank.

Son, who had called Arora his likely successor earlier this year, decided he wants to maintain control of the company he built from a computer software distributor into one of Japan's largest telecommunications and investment holding corporations. Still, the abrupt departure left analysts questioning the motivation behind the events.
"You can't really sprinkle any sugar on this one. This shows disunity," said Amir Anvarzadeh, manager of Japanese equity sales at BGC Partners Inc. "Given how much Son was putting the responsibility of running the business into his hands, to have him not there, I don't think anyone would say the share price will start going up."
Supercell Deal
In a briefing in Tokyo, Son praised Arora and credited him with playing a pivotal role in Tuesday's deal to sell a majority stake in Supercell Oy that valued the Clash of Clans developer at $10.2 billion. But Son said he isn't ready to let go.
"I'll be forever young, that's what I want to keep thinking. I want to keep going until I lose confidence in my physical strength. And I'll want to keep holding on to the rudder more and more as the day of retirement approaches," Son said, as a smiling Arora looked on. "I feel really terrible for having inconvenienced Nikesh, but it would not be good to go out while holding my feelings back."
Shares Gain
Shares of SoftBank rose 2.1 percent to 5,961 yen as of 9:09 a.m. in Tokyo, while the broader market dropped 0.5 percent. SoftBank shares have fallen 2.9 percent this year. Shares of Sprint Corp., controlled by SoftBank, jumped 7.8 percent, in part because Arora had been perceived as a less-than-enthusiastic supporter of its investment in the struggling U.S. carrier.
Son recruited Arora from Google and made him one of the highest-paid executives in the world. He was paid 8.04 billion yen ($76.7 million) in the last fiscal year, after receiving compensation of 16.6 billion yen the previous year.
Arora's exit may deal a blow to SoftBank's global aspirations. He was hired in 2014 after a decade at the U.S. search giant and promoted to president in June of last year. He's since built his own operation within SoftBank, an investment arm that will take stakes in technology companies around the world.
Next Alibaba
Though SoftBank put money into startups for decades, including a tumultuous foray during the dot-com bust, the effort had dwindled in recent years to what Son called a "hobby" next to his wireless and broadband businesses. Arora revived the venture push and infused it with more ambition, aiming to invest about $3 billion a year in promising startups.
The goal was to find the next Alibaba Group Holding Ltd., the Chinese e-commerce company that SoftBank backed and went on to pull off the world's largest initial public offering in 2014. Arora spearheaded investments in Indian e-commerce provider Snapdeal.com, ride-hailing service Ola Cabs, real-estate website Housing.com and hotel-booking app Oyo Rooms. In October, SoftBank led a $1 billion fundraising round for U.S.-based online lender Social Finance Inc.
"I'm very proud of what we achieved in the last two years," Arora said. "Masa has learned that SoftBank has new muscles that it can exercise."
Sprint Losses
Still, SoftBank's shares have languished, beaten back in part by its ill-advised investment in loss-making Sprint and its heavy debt load. Arora helped lead a recent round of asset sales, including the Supercell deal, aimed at strengthening the balance sheet.
"The market has welcomed portfolio changes initiated by Arora, but that work is mostly done," said Cedric Araud, a fund manager at Capitalatwork Foyer Group SA in Luxembourg, which holds SoftBank shares. "The question now is who would be the next CEO, because right now we don't have a name."
An investor group had called on the board this year to investigate and possibly dismiss Arora in a pointed 11-page letter. They asked whether Arora harbored conflicts of interest at SoftBank because of his role as a senior adviser to private equity firm Silver Lake.
A separate letter to the board of Sprint asked for his removal as a director there for similar reasons. SoftBank said on Monday that a special committee of independent directors convened to look into the accusations found the claims without merit.
Personal Bet
In the Tokyo gathering, Son said the pair had maintained a close relationship, huddling frequently in past weeks.
"If you pass the baton before settling your feelings, it will be a mess later on. So I thought it is best to speak very honestly," Son said.
Arora bet a huge amount of his own money on SoftBank. He borrowed heavily to buy 60 billion yen ($483 million at the time of the announcement) of SoftBank shares, more than any insider purchase by an executive in Japan in at least 12 years, according to data compiled by Bloomberg. Any shares he's purchased will be sold to Son at a small loss, Arora said.
It's unclear where Arora is heading. The executive is leaving just as SoftBank agreed to sell Supercell, one of Son's most profitable deals as well as one of the quickest to bear fruit. SoftBank this month said it would raise $10 billion trimming its stake in Alibaba, an investment that started with $20 million in 2000.
"Given his new change of mind that he wants to do this and work really hard, I think it's only fair that we let the crazy genius of Masa continue generating great returns," said Arora in the interview. 
After the announcement, Arora took to Twitter with a flurry of more than 100 posts. He responded to well wishers and answered questions. One person asked what he would do next.
"The plan is no plan," Arora wrote.
Before it's here, it's on the Bloomberg Terminal.
LEARN MORE