Pound May Drop to $1.32 on Brexit, 'Leave' Supporter Mellon Says
by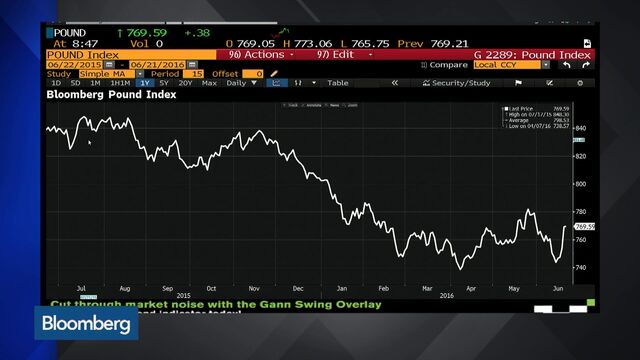 The pound may drop to as low as $1.32 if the U.K. exits the European Union, according to Jim Mellon, who was cited as supporter of the "Leave" campaign by pro-Brexit Justice Secretary Michael Gove in a BBC Radio interview on Tuesday.
Mellon, chairman of the Burnbrae Group, is "in and out on shorts," on sterling, he said in an e-mail on Tuesday, referring to bets the currency will decline. The currency's "top limit" is $1.51, while it has a downside of $1.32 on a Brexit, he said.
The pound was at $1.4663 as of 6:20 p.m. London time. A level of $1.32 would be the lowest since 1985, and represents a 10 percent drop from the current level.
Billionaire investor George Soros said this week that the pound may slump more than 20 percent against the dollar if British voters decided to leave the European Union, a devaluation bigger and more disruptive than when he profited by betting against the currency in 1992.
Before it's here, it's on the Bloomberg Terminal.
LEARN MORE