Food & Drinks
NFL Star Julian Edelman's Favorite Spots—and Burgers—in L.A.
The Super Bowl-winning wide receiver on how he relaxes when he's not in the game.
By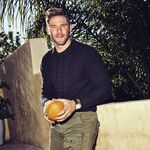 The life of an NFL player doesn't consist of football 24 hours a day, seven days a week. Just "20 hours, six days a week," says Julian Edelman, a New England Patriots wide receiver and one of Tom Brady's favorite targets. "You need to get away and enjoy life so you appreciate what you worked for."

For Edelman, that means jetting out of Foxborough, Mass., where the team practices and plays during the season, and heading to Los Angeles, where he owns a modern home in West Hollywood. "I've lived in almost every neighborhood, so I have friends in different areas. Some in Manhattan Beach, my West Side friends in Venice and Del Rey, friends in Hollywood and Orange County," he says. "It's like I get to go back to each area and explore it like a local."
Edelman's favorite way to unwind is to go skateboarding, which he'll often do with teammate Danny Amendola. "We'll start on Washington Boulevard in Venice, grab a burger at Hinano, then ride down through Santa Monica and just soak up the sun," he says. "It's a therapeutic thing." He skates goofy on a small banana board, though he will occasionally use a long board. Neither is particularly useful for tricks. "If you give me six tries, I can probably land a kick flip," he says. And no ramps ("I've got to save my ankles") or helmets. Edelman gets enough of that already.
He occasionally cooks at home and claims to make a mean pfannkuchen ("it's basically a German crepe") the way his grandmother did when he was a kid growing up in Redwood City, Calif., outside San Francisco. But Edelman's real love is the hamburger, and he's always on the hunt for the perfect one. "It's something I'm known for," he says. "I'll just go to certain areas and try the burgers there." His current picks in L.A. are the Apple Pan, Father's Office, Oaks Gourmet, and, of course, In-N-Out. "I'm a California kid," he says.

Julian Edelman's Nine Favorite Burgers
LOS ANGELES
Apple Pan: One of LA's oldest restaurants, but offering the best $7.10 burger in the city, if the likes of Dolly Parton, writer David Sedaris, and the Jonas brothers are to be believed. Cash only. 10801 West Pico Blvd; 310-475-3585
Father's Office: Its Office Burger is the original gourmet, pub-style burger: a dry-aged beef patty topped with caramelized onions, Gruyere and blue cheeses, applewood-smoked bacon, and arugula on a soft roll. No substitutions. 3229 Helms Ave., Santa Monica; 310-736-2224
Oaks Gourmet: Locals call it the best bacon cheeseburger in the city, but pretty much anything here is good for a snack in the middle of the day. Takeout only. 1915 N. Bronson Ave., Hollywood; 323-871-8894
In-N-Out Burger: Edelman is devoted to the fast-food favorite. "Shake Shack is good, but it's no In-N-Out," he says. "Obviously it wins that argument, hands down." Various locations.

BOSTON
Hojoko: A rock 'n' roll izakaya set in the Verb Hotel near Fenway Park. "It's a Japanese place," says Edelman, "but they have an insane burger." The chuck and Wagyu short-rib patty is topped with American cheese, dashi pickles, red onion, and the house special sauce. Walk-ins only. 1271 Boylston St.; 617-670-0507
Craigie's on Main: The burger is so photogenic it was put on the cover of Bon Appetit. Chef Tony Maws uses a house-made milk-style bun and grass-fed beef patty, Shelburne Farm cheddar, and special "mace" ketchup consisting of tomatoes, dried spices, vinegar, onions, garlic, ginger powder, and anchovy. It's "the one I always go to," Edelman says. Arrive early. 853 Main St.; 617-497-5511
Back Bay Social Club: Old-fashioned, double-decker bistro that stakes its burger-fetish claim on the dry-aged prime rib patty and "smothered" onions—cooked for four hours so that they're the consistency of marmalade. Also topped with Vermont cheddar. 867 Boylston St.; 617-247-3200
Toro: Before they were the denizens of party central in New York's Meatpacking District, chefs Ken Oringer and Jamie Bissonnette made their name in Boston. The original Toro has "awesome sliders," known as the Hamburguesa con Queso, made with tomato jam, aioli, and pickled red onion. 1704 Washington St.; 617-536-4300
JM Curley's: If you're looking for a midnight snack, the 5-ounce Griddle Burger at this unpretentious pub is available on the late-night menu. 21 Temple Pl.; 617-338-5333
Before it's here, it's on the Bloomberg Terminal.
LEARN MORE