U.S. Stocks Drop With Crude as Pound Advances Before U.K. Vote
by and
While odds favor 'Remain,' polls show 'Leave' camp in lead

Asian index futures mixed as traders shift to the sidelines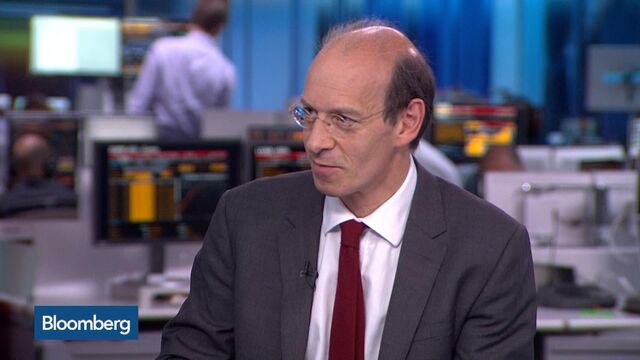 U.S. equities slipped with crude oil, while Treasuries advanced with the pound before Thursday's vote on whether the U.K. will leave or remain in the European Union.
The S&P 500 finished lower after swinging from gains to losses throughout the session, while European shares edged higher as fresh polls showed British voters may elect to leave the EU even as bookmakers' odds imply a one-in-four chance of that happening. Sterling rallied as 10-year Treasury yields fell from a two-week high after investors bought $46 billion of debt at auction. Crude retreated after U.S. inventories declined less than forecast.

Concern that the U.K. could secede has whipsawed riskier assets this month, wiping more than $1 trillion off global equity values last week alone. Bookmakers' odds on the "Leave" vote prevailing have fallen to about 28 percent, from 43 percent a week ago, following the murder of pro-Europe U.K. lawmaker Jo Cox. Even so, opinion polls suggest the vote is still too close to call, with central bankers including Federal Reserve Chair Janet Yellen indicating a victory for Brexit would destabilize global financial markets.
"With the vote happening tomorrow, I suspect that there will be some delicate positioning in anticipation of it, but nothing particularly dramatic," said Mark Luschini, chief investment strategist at Philadelphia-based Janney Montgomery Scott LLC, which manages $54 billion. "I can't envision a scenario where the markets will rally significantly. If the referendum ends up leaning toward a Brexit, those holding riskier assets would be caught."
For a wrap-up of Brexit referendum coverage, including the latest polls, click here.
Stocks
The S&P 500 fell 0.2 percent to 2,085.45 as of 4 p.m. New York time, as energy and technology shares paced declines. The Nasdaq Biotechnology Index jumped 0.7 percent after ending a nine-day losing streak on Monday, the longest in two decades.
The MSCI All-Country World Index ended Wednesday little changed after rising 2.6 percent over the past three days. The Stoxx Europe 600 Index rose a fourth day, climbing 0.4 percent. The FTSE 100 Index of U.K. stocks climbed 0.6 percent, with trading volumes 14 percent above than the 30-day average.
MSCI's Emerging Markets Index rose 0.5 percent as stocks in eastern Europe, the region that arguably has the most to lose in the event of a Brexit, rallied. Chinese equities traded in Hong Kong led gains in Asia.
Index futures signaled another mixed day in Asia, with contracts on Japan's Nikkei 225 Stock Average down 1.2 percent in Chicago, while those on Hong Kong benchmarks advanced 0.1 percent. Futures on Australia's S&P/ASX 200 Index and the Kospi index in Seoul retreated 0.3 percent and 0.2 percent respectively in most recent trading.
Currencies
The pound rose 0.4 percent to $1.4757 after earlier climbing as much as 0.8 percent to its highest level since Dec. 30. A poll on EU referendum voting intentions conducted by Opinium showed 45 percent would opt to leave and 44 percent to remain. A separate survey by TNS had 43 percent backing Brexit and 41 percent voting to stay.
The Bloomberg Dollar Spot Index, which tracks the greenback against 10 major peers, resumed declines, falling 0.4 percent after snapping a four-day losing streak on Tuesday. Brazil's real and South Africa's rand were the biggest gainers among major currencies.
The yen added 0.3 percent to 104.41 per dollar, trading close to its highest level since August 2014. Japan's Ministry of Finance would be unlikely to use unilateral intervention in the currency market as a tool should the yen surge on a vote in favor of Brexit, said people familiar with the matter who didn't want to be identified.
Bonds
Benchmark 10-year Treasury yields fell two basis points, or 0.02 percentage point, to 1.69 percent, dropping for the first time in five days. The U.S. Treasury auctioned $28 billion of seven-year debt late Wednesday, after selling $5 billion in 30-year inflation-linked bonds and $13 billion in two-year floating rate notes earlier in the session.
"The seven-year auction was strong, unlike its two-year and five-year counterparts" earlier this week, said Justin Lederer, an interest-rate strategist in New York at Cantor Fitzgerald LP, one of 23 primary dealers that are obligated to bid at U.S. debt sales. "The strong auction has, along with recent Brexit news, aided in slightly lower yields post-auction."
Fed Chair Yellen reiterated on Tuesday that a vote to leave the EU could have "significant economic repercussions," even as she warned against exaggerating its global impact.
Commodities
Oil declined for a second day in New York after U.S. government data showed crude stockpiles shrank by 917,000 barrels last week amid a jump in imports, a drop that was less than energy analysts had anticipated. West Texas Intermediate futures fell 1.4 percent to settle at $49.13 a barrel, after climbing to as high as $50.54.
Copper rose for a fourth day and most other industrial metals gained as the dollar weakened before the U.K. vote. Gold dropped 0.3 percent.
Before it's here, it's on the Bloomberg Terminal.
LEARN MORE