Modi Ally Sees India Growth Unchained Now That Rajan Is Leaving
by
India economic growth can exceed 10 percent now, Swamy says

Modi will 'start moving in a big way' with Rajan gone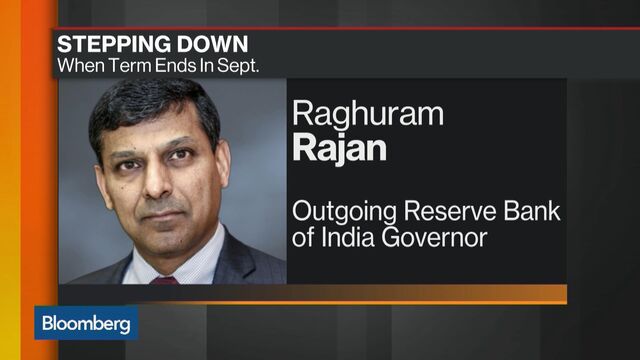 The Indian ruling-party lawmaker and prime ministerial ally who pushed for the departure of central bank Governor Raghuram Rajan hailed his impending exit on Tuesday, saying his nation's growth could now head toward 10 percent.
Prime Minister Narendra Modi will be "unfettered" and "start moving in a big way" with Rajan out of the picture, Subramanian Swamy, who holds a doctorate in economics from Harvard University, said on Tuesday. He blamed Rajan for holding back the economy, saying "it was almost as if he was inspired to prevent the growth story from taking off."

"It will be a more pro-growth atmosphere now," Swamy said by phone. "You won't have to hear all these outdated theories about controlling inflation by raising interest rates."
Swamy led a public campaign to remove the former International Monetary Fund chief economist, criticizing him for keeping borrowing costs too high and being "mentally not fully Indian." The attacks were said to factor into Rajan's surprise decision to return to academia when his term ends in September, in part because Modi's government failed to defend him.
To read more on the political spat that prompted Rajan's decision, click here.
Rajan hit back on Monday at critics who want more aggressive interest-rate cuts, saying that they "cannot have it both ways, want lower inflation as well as lower policy rates." Since consumer-price inflation reached 5.76 percent in May, at the upper end of the government's target, it suggests the central bank was "wise to disregard advice in the past to cut more deeply."
Rajan also said there's no trade-off between inflation and growth in the long run. He warned India to be "very wary of economists who say you can have it all if only you try something out of the box."
Swamy, who has called for India to scrap inflation-targeting, said Rajan's departure would bring down the cost of capital and help banks get the cash needed to clear bad debts. He called for the removal of officials like Rajan who were appointed before Modi took power, saying that India needed people who have a "general growth spirit."
'Let Them Wail'
India can expect large public-works programs like road-building, investments in desalination of sea water and asset-creating spending that isn't inflationary, Swamy said. He dismissed concerns from those saying the governor's exit is bad for India, saying: "Let them wail."
"I don't think we are going to be bound by bureaucrats telling us what the fiscal deficit should be," Swamy said, referring to Rajan's call for Modi earlier this year to stick with a budget-deficit reduction road map to build credibility with bond investors.
As for Rajan's successor, he called for someone with no ties to Sonia Gandhi, president of the opposition Congress party. He also chided those who predicted that Rajan would get a second term despite his push to remove him.
"You people said I don't count for anything and Rajan will be given a second term and the prime minister likes him very much and the finance minister is in love with him," Swamy said. "What happened in the end? You looked all silly."
Before it's here, it's on the Bloomberg Terminal.
LEARN MORE