Jefferies Posts Biggest Fixed-Income Rise in Eight Quarters
by
Bond-trading revenue at Wall Street bellwether jumps 55%

Results reflect rebound from quarter that 'humbled' CEO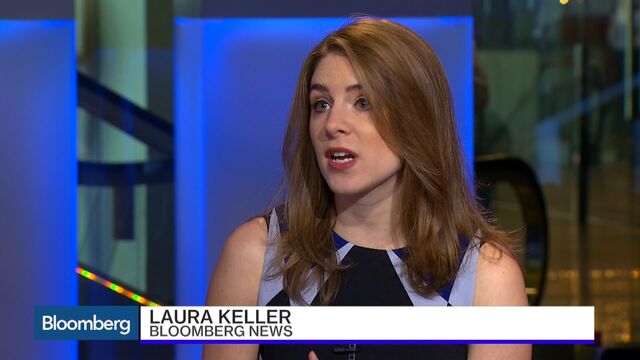 Jefferies Group posted a 55 percent surge in bond-trading revenue, the biggest increase since the third quarter of 2014, helping the firm recover from a punishing loss in the previous three months.
Revenue from trading fixed-income securities in the fiscal second quarter ended May 31 rose to $238.5 million, the New York-based investment bank said Tuesday in a statement. That's the most in a March-through-May period since 2012. Net income fell 9.9 percent to $53.9 million from a year earlier as fees from underwriting stocks and bonds declined by more than half.

"This was not a great trading environment but it was a normal trading environment without painful and violent swings," Chief Executive Officer Richard Handler said in a phone interview. "You can't say it's all clear and the worst is over, but you can say there's more stability and more natural client flow."
Investors watch trading results at Jefferies to gauge how business is faring at bigger investment banks, which finish their quarters a month later. Shares of the company's parent, Leucadia National Corp., tumbled in March when Jefferies reported a slide in trading revenue that presaged declines at other firms. The second-quarter improvement bolsters the message other Wall Street executives have been telegraphing: Trading is pivoting from the first-quarter rout.
Handler, who said in March he was "humbled" by the loss earlier this year, credited the reversal in the fixed-income business, which is led by Fred Orlan, to better communications from the Federal Reserve about when it might raise interest rates, other dealers reducing inventories and "reasonable" client flow.
Investment Banking
Fees generated by the investment bank, run by Ben Lorello, slid 37 percent from a year earlier because of the underwriting decline, and increased 9.6 percent from the previous three months. Leucadiasaid on May 4 that Jefferies's performance "improved significantly" in March and April.
"There's a lot of pent-up demand by corporate companies" for deals, capital raises and merger transactions because "the environment was so unfriendly, things got put on hold," Handler said in the interview.
Revenue from equities trading, overseen by global head Peter Forlenza, rose 2 percent in the second quarter to $223.5 million. That was a rebound from the $1.7 million reported in the first quarter, when mark-to-market losses on a position in KCG Holdings Inc., the successor to Knight Capital Group Inc., and another equity block position hurt results.
Feeling Relief
"Whew! What a relief compared with the downright dismal numbers" from the first quarter, David Havens, an analyst at Imperial Capital, wrote Tuesday in a note to clients. The start to the year "was about as dismal as it can get (without being in a full-blown crisis situation)," he wrote.
Shares of Leucadia declined 0.4 percent to $17.02 at 12:05 p.m. in New York. This stock has dropped 35 percent since Leucadia completed its acquisition of Jefferies in March 2013, the worst performance in the 92-company S&P 500 Financials Index.
Jefferies is seeking to expand investment-banking operations in the U.S. and Europe, Handler and Friedman said in the statement. It hired five San Francisco-based senior technology bankers from Credit Suisse Group AG last month.
Firms are "pulling back capital, and for the players that are still there, it creates an opportunity," Handler said.
The firm cut employee compensation more severely this quarter from a year earlier -- by 13.6 percent to $765 million -- than it had in the previous quarter, when it reduced pay by 4.2 percent.
Before it's here, it's on the Bloomberg Terminal.
LEARN MORE