Iceland Forces Bondholders to Take 38% Discount in Krona Auction
by
Iceland rejected ISK106 Billion kronur in currency auction

Iceland says will offer all remaining investors 190 per euro
Iceland met limited interest from creditors trying to exit the island's capital controls through a currency auction, after offering them an exchange rate that was 38 percent below the krona's market price.
Iceland's currency reserves will be reduced by 47 billion kronur ($383 million) after the central bank offered to buy 72 billion kronur in offshore holdings at a rate of 190 per euro. That compares with the current official exchange rate of 138 per euro. The bank rejected offers of 106 billion kronur and said it will pay the 190 per euro rate on all kronur that aren't sold before June 27.
The auction marks the last major hurdle for Iceland before it can remove capital controls for consumers and corporations. The central bank had wanted to mop up about 320 billion kronur in offshore holdings placed mainly in so-called Glacier bonds, which were bought by investors including Loomis Sayles, Eaton Vance Management and hedge funds such as Autonomy Capital before the nation's economic collapse in 2008.
It was "the last in a series of twenty-three auctions in which owners of offshore krónur were invited to purchase foreign currency before the authorities begin lifting capital controls on resident entities; i.e., pension funds, other legal entities, and individuals," the bank said in a statement.
The krona slid 0.3 percent to 138.35 per euro as of 10:24 a.m. in Reykjavik.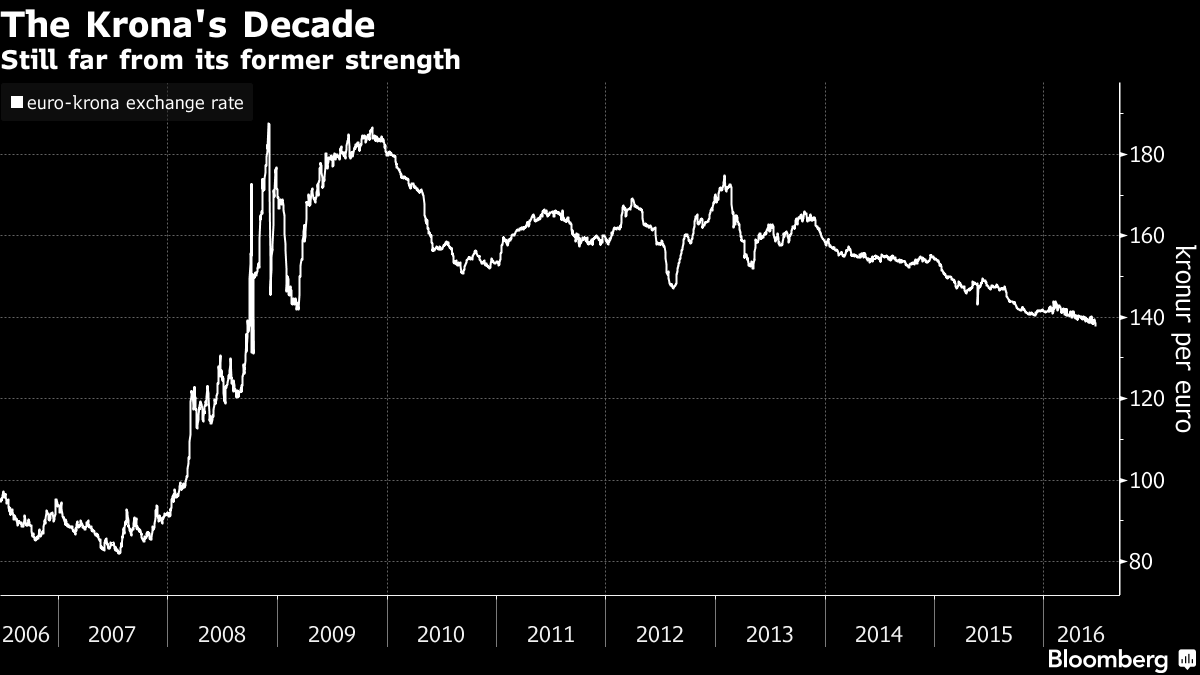 Iceland late last year reached a deal with creditors in its failed banks, whose collapse plunged the nation into an economic crisis in 2008. Successive governments have since worked to resurrect the economy, winning praise for policies that have included refusing to bail out banks and providing large-scale debt relief for struggling homeowners.
Before the auction, the bank had proposed an exchange rate range of 190-210 euro per krona, with the size of the discount depending on the number of offers.
The central bank said earlier that investors who didn't participate in the auction would have their assets locked into special accounts with an interest rate of 0.5 percent until further notice. The final results will be published after settlement on June 29.
Iceland this month put in place defenses to stop fast money from chasing western Europe's highest rates, setting requirements for new offshore investors that force them to keep 40 percent of their Icelandic holdings in reserve accounts for at least one year.
Before it's here, it's on the Bloomberg Terminal.
LEARN MORE