Euro Declines After Draghi Repeats Further Stimulus Is Possible
By and
Comments on inflation, targeted loans plan sway prices

Currency market remains focused on Brexit vote this week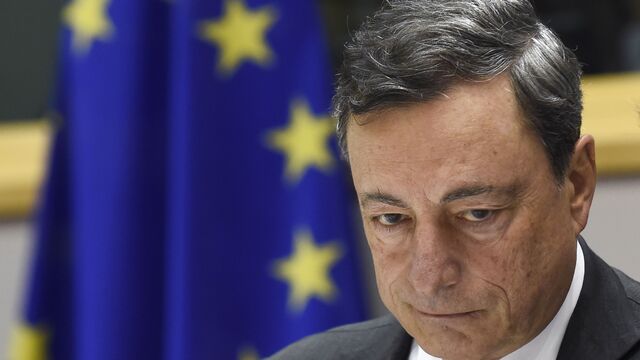 The euro dropped the most in a week against the dollar after European Central Bank President Mario Draghi reiterated his willingness to act to bolster inflation.
Inflation dynamics in the euro area remain "rather subdued" even as the economic recovery "gained momentum at the start of the year," Draghi said at European Parliament hearing in Brussels. He also said a new set of targeted loans for European banks are in the pipeline as announced previously, a measure aimed at encouraging banks to provide more credit to companies and households.

"The market latched onto the comment that further stimulus was in the pipeline, just that they're already announced," said Peter Dragicevich, a foreign-exchange strategist at Commonwealth Bank of Australia in London. "Things that should be known are getting a reaction given just how quiet things are before the Brexit referendum."
Federal Reserve Chair Janet Yellen said the June 23 vote in the U.K. over whether to remain in the European Union poses threat to the economy, and may have significant economic repercussion if Britain leaves. She also offered a subtle change to her outlook from last week, saying she and her colleagues were on watch for whether, rather than when, the U.S. economy would show clear signs of improvement.
The euro fell 0.6 percent to $1.1242 at 5 p.m. in New York. The Bloomberg Dollar Spot Index, which tracks the currency against 10 major peers, rose 0.3 percent.
Starting tomorrow, euro-area banks can bid for a four-year loan from the ECB at an interest rate that begins at zero and could ultimately be negative. Even so, with the currency bloc already awash in liquidity and the global outlook uncertain, the impact might be incremental rather than spectacular.
Investors and policy makers alike are laser-focused on the U.K. referendum and its potential ramifications on global growth and monetary policy. With two days to go before Britons vote on whether to remain in the EU, the result remained too close to call, with different polls showing leads for both sides of the debate.
Futures indicate a 49 percent chance that the Fed will raise rates this year, down from a 76 percent probability at the start of the month.
"This keeps the door very, very slightly ajar to a July rate hike, especially if we do not get any further volatility as a result of Brexit," said Omer Esiner, chief market analyst at Commonwealth Foreign Exchange in Providence.  "But I think Yellen's comments were not designed to be a market mover ahead of the big events."