Egypt Court Voids Decision to Cede Red Sea Islands to Saudis
by and
Government to appeal once it sees court's legal reasoning

Decision to cede islands triggered protests against El-Sisi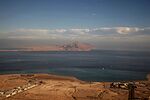 An Egyptian court on Tuesday overturned the government's agreement with Saudi Arabia to redraw the countries' maritime border, which sparked an uproar for ceding control over two Red Sea islands to the oil-rich kingdom. The government said it would appeal.
The decision in April to cede the islands of Tiran and Sanafir triggered the biggest protest against President Abdel-Fattah El-Sisi since he was elected in 2014, with critics accusing him of giving up land in return for Saudi aid. The agreement was announced at the end of a state visit by King Salman, who also pledged billions of dollars in assistance and investments to support the most populous Arab country.
"The islands are Egyptian, and the signing of the pact is nullified," said Khaled Ali, a former presidential candidate and one of the lawyers who filed the case. The government will take the necessary steps to appeal, Legislative and Parliamentary Affairs Minister Magdy El-Agaty was quoted as saying by the state-run Middle East News Agency.
The accord was also subject to parliamentary approval. Bahaa Abou Shakka, the head of the parliament's legislative committee, said lawmakers will examine the ruling, along with other documents, before they make a decision on the pact, state-run media reported.
In court, Judge Yehia El-Dakroury ruled "to halt the execution of the border demarcation agreement" and for the two islands to remain under Egyptian sovereignty. A summary of Tuesday's court ruling published by local media didn't explain the reasoning behind the verdict.
Right to Appeal
"The government now has the right to appeal at the high administrative court, the ruling is effective until the court decides," said Ali Ayoub, one of the lawyers who filed the legal challenge. El-Agaty said the government "respects court rulings."
The president dismissed criticism of the deal, saying in April that he didn't sell Egyptian territory but returned land that was rightfully Saudi Arabia's. He also asked Egyptians "not to talk about the subject again."
Saudi Arabia, along with Kuwait and the United Arab Emirates, provided tens of billions of dollars to help Egypt's struggling economy after the 2013 military-led ouster of Islamist president Mohamed Mursi, which El-Sisi led when he was minister of defense. Egypt has since taken part in the kingdom's military alliance as El-Sisi professed his country's commitment to the security of Arab gulf nations.
The legal justifications for the ruling will determine the future of this case, according to Shawky El-Sayed, a constitutional expert and former member of parliament.
"If it's a procedural issue, lacking parliament approval for example, then it could be easily rectified," he said in a phone interview. "But if the court found that the agreement illegitimately ceded control of Egyptian land, then the case will take a much more complicated path."
Before it's here, it's on the Bloomberg Terminal.
LEARN MORE