Brexit Polls and Markets Disagree in Campaign's Final Hours
by , , and
Currency, equity markets bet on 'Remain' victory Thursday

Polls show race is deadlocked in final campaign stretch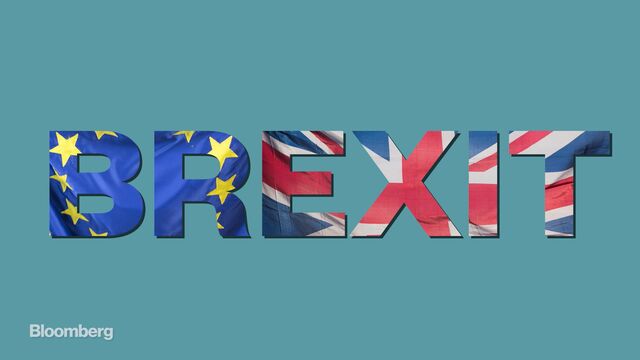 Britain is in the final day of campaigning before its Thursday referendum on European Union membership, with opinion polls and financial markets at odds over the outcome. 
Brexit on Bloomberg:
Investors are piling money into bets on a victory for the "Remain" campaign, led by Prime Minister David Cameron. The pound has surged to a five-month high against the dollar and global stocks gained for a fourth day on Wednesday, with the U.K. benchmark index erasing its monthly decline. Bookmakers have shortened their odds on a vote to stay.
Polls, meanwhile, say the race is too close to call after a swing toward the "Leave" campaign came to an apparent halt last week following the murder of Labour Party lawmaker Jo Cox, a supporter of staying in the EU.
"Rising anticipation that 'Remain' will win the vote is driving the market," said John Plassard, a senior equity-sales trader at Mirabaud Securities in Geneva. "Even if polls are close, people are paying more attention to the bookmakers because that was a much better predictor in past referendums."
Will U.K. Vote Against Europe? Markets Vote No: Matthew Winkler
The British currency is already trading at levels economists forecast it would reach after a decision to stay in the EU. Sterling was up 0.6 percent at $1.4737 as 3 p.m. London time. The median estimate in a Bloomberg poll of economists earlier this month was for it to trade in a range of $1.45 to $1.50 the day after a "Remain" victory. The Bloomberg British Pound Index, which tracks sterling against seven major peers, rose 0.4 percent and reached its strongest level since May on a closing basis.

European equities climbed again on Wednesday, extending their strongest three-day run since August. Britain's FTSE 100 Index has rebounded 5.3 percent from its mid-June low. An index of betting flows compiled by Oddschecker shows the chance of Brexit has fallen to about 25 percent from 43 percent since June 14.
Less than 18 hours before voting booths open Thursday, both sides are making emotional appeals to the electorate, describing starkly different versions of the U.K.'s prospects outside the EU. A record number of Britons, 46.5 million, have registered to vote, according to the Electoral Commission.
Churchill and Botham
Speaking to supporters in central London, U.K. Independence Party leader Nigel Farage invoked Winston Churchill, the Falklands war and cricketer Ian Botham to rally enthusiasm for his vision of the future. "It may be tight, it may be narrow, but I believe we are going to win," Farage said. 
Former Prime Minister John Major, by contrast, called pro-Brexit campaigners "the gravediggers of our prosperity" in a speech in the southwestern city of Bristol. If "Leave" is victorious, "we would be seriously diminished as a country," he said. "I don't want a Broken Britain without influence."
French president Francois Hollande said the U.K. would "no longer be able to access the common market" after leaving the EU, ruling out privileged access to the European economy that has been proposed by some "Leave" campaigners.
In addition to the potential economic consequences of Brexit, the domestic political stakes are high. Scotland's Parliament should have the right to propose another referendum on independence if it "faces the prospect of being taken out of Europe effectively against our will," Scottish National Party leader Nicola Sturgeon said on Bloomberg Television. Polls show Scots are generally more pro-EU than the far more numerous English.
To follow our referendum night live blog, click here
With different polls putting each side ahead U.K.-wide, the BBC held a debate Tuesday evening in London before a raucous audience of 6,000. The fiercest arguments were within the governing Conservative Party. Both former London Mayor Boris Johnson and Energy Minister Andrea Leadsom, arguing for "Leave," were confronted by the leader of the party in Scotland, Ruth Davidson.
"You are being asked to make a decision that is irreversible, we can't change, we wake up on Friday and we don't like it and we are being sold it on a lie," Davidson said. "They lied about the cost of Europe, they lied about Turkey's entrance to Europe," she told the audience.
Johnson urged the nation to make Thursday "our country's independence day."
"They say we can't do it," he said. "We say we can. They say we have no choice but to bow down to Brussels. We say they are woefully underestimating this country."
'Lies'
The intra-Conservative discord highlighted the challenges Cameron faces uniting his party even if "Remain" wins. Sayeeda Warsi, a former chairman of the party, this week accused Justice Secretary Michael Gove of propagating "lies" about the EU, the latest in a string of increasingly personal attacks exchanged by senior Tories during the campaign.
Click here for a guide on what to look out for on the night of the vote count
The "Leave" camp had one key message in the TV debate -- "take back control" -- and hammered it home repeatedly. "I'm passionately a believer in immigration, but it's got to be controlled," Johnson said.
The "Remain" campaign is emphasizing its message of the economic risks of a Brexit in the final stretch. Wednesday's Times newspaper published a letter from 1,285 leaders of businesses employing 1.75 million people, saying that "Britain leaving the EU would mean uncertainty for our firms, less trade with Europe and fewer jobs." Among the signatories was Michael Bloomberg, founder and majority owner of Bloomberg LP, the parent company of Bloomberg News.
Before it's here, it's on the Bloomberg Terminal.
LEARN MORE