Suspected Bomb in Brussels Found to Contain Just Cookies, Salt
by
Shopping center cordoned off in center of Belgian capital

City continues on elevated state of alert after March attacks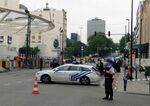 Belgian police are questioning a male suspect arrested during a bomb scare at the City 2 shopping mall in the center of Brussels, the prosecutor's office said. No explosives were found.
Police in Brussels received a call Tuesday at 5:30 a.m. local time from a person stating that he had been abducted in a car and dropped in Rue Neuve, one of the busiest shopping streets in the Belgian capital, and that he was wearing an explosives belt which was to be triggered remotely by a third party. The man, identified only as J.B. born in 1990, was known to police for various crimes, some linked to psychiatric problems, the prosecutor's office said.
Police cordoned off the area and a bomb-disposal team established that the device was a fake containing only salt and cookies. Police traced the car allegedly involved in the incident to the Schaerbeek neighborhood of Brussels and will question its owner, the prosecutor's office said.
Brussels continues to be on the second-highest state of alert following attacks carried out by terrorists allied to the Islamic State group at the airport and a metro station on March 22 that left 32 people dead. Just this weekend, Belgian authorities charged three people in connection with a separate suspected terror plot possibly involving a plan to attack fans gathering to watch the national soccer team in the Euro 2016 tournament.
The suspect in Tuesday's bomb scare was already under investigation to determine whether there were links to terrorism after he recently contacted the police claiming he had been urged to join Islamic State in Syria.
Belgian Prime Minister Charles Michel and Justice Minister Koen Geens went to the country's crisis center and monitored the situation, according to Belga.
Before it's here, it's on the Bloomberg Terminal.
LEARN MORE