Photographer: Attakorn Bk/Getty Images
Australian Banks Show Mettle as Bond Risk Falls
by and
The cost of insuring bank bonds with CDS has declined in June

Equity holders have made losses, bond returns are positive
Investors in Australian bank bonds are showing confidence in the ability of lenders to weather the risks that have whipsawed global markets this month.
While Aussie bank equities have taken a hit amid uncertainty about the U.K.'s place in Europe and U.S. interest rates, the cost of insuring debt of the country's four major lenders has fallen. The average for their credit-default swaps, which protect against non-payment of debt, has declined 9 basis points this month to 79 as of Tuesday, CMA data show. The S&P/ASX 200 Banks index has dropped 4 percent over the same period.
Bond buyers are betting rising bad debts for banks or a housing market shock would take a toll on lenders' dividends and equity capital rather than imperiling creditors. Australia & New Zealand Banking Group Ltd., Commonwealth Bank of Australia, National Australia Bank Ltd. and Westpac Banking Corp. raised a combined A$20 billion ($15 billion) in capital in 2015 to meet stiffer regulation requirements and also haven't increased interim dividends to stockholders this financial year. That hasn't happened since 2008.
"Australia's largest lenders are low risk, back by a AAA rated sovereign, and offer attractive yields for international investors grappling with zero to negative rates," said David Ellis, a Sydney-based analyst at Morningstar Inc. "The record amounts of capital they raised last year have strengthened their balance sheets further. For equity investors the risks are rising with pressure on dividends and profits."
For a story on the challenges the largest Australian banks face, click here.
The following charts illustrate the relative resilience of Australian banks in debt markets.
CHART 1: The average CDS for banks on Monday fell to a level unseen this year, having dropped from as much as 142 in February, the data show. The CDS have also declined relative to the benchmark iTraxx Australia index.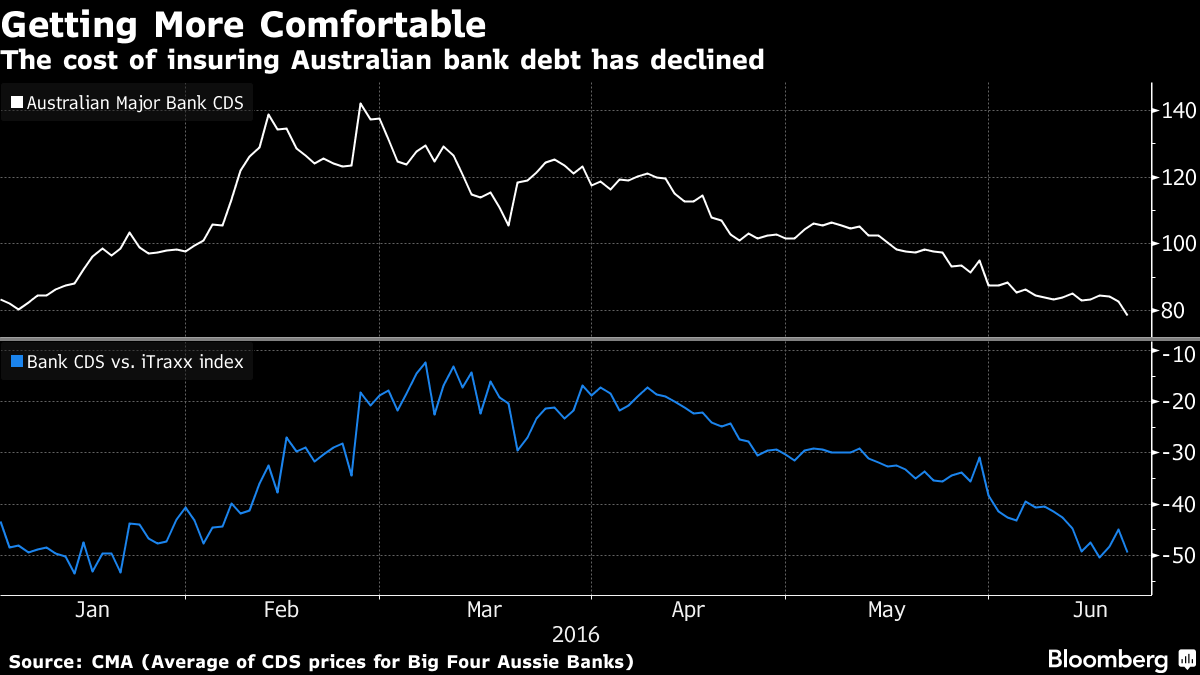 CHART 2: While the cost of protecting bonds sold by the major banks Down Under has been sliding, the average for their four biggest U.S. peers has stayed up. That means CDS on Aussie lenders last week dropped below the American bank average for the first time since August.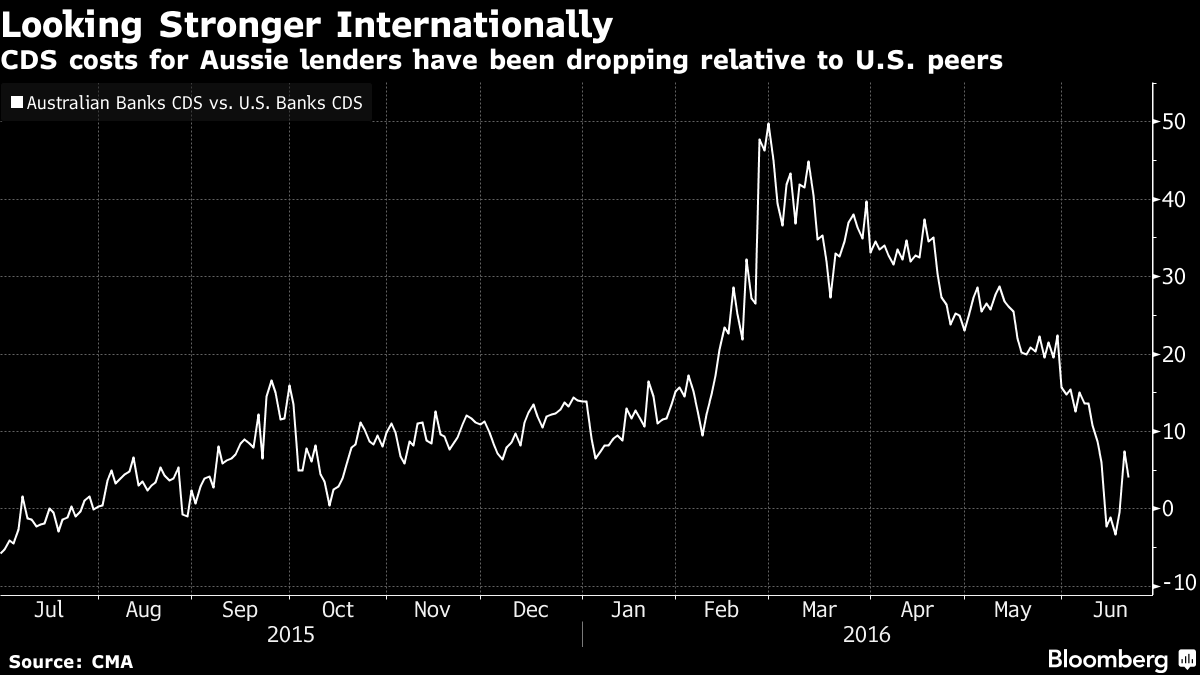 CHART 3: Australian fixed-income investors have garnered returns of 0.4 percent to 0.5 percent from the big four banks since May 31, Bank of America Merrill Lynch index data showed as of Tuesday. Equity losses for the same institutions have ranged from 3 percent to 5.5 percent, according to data compiled by Bloomberg.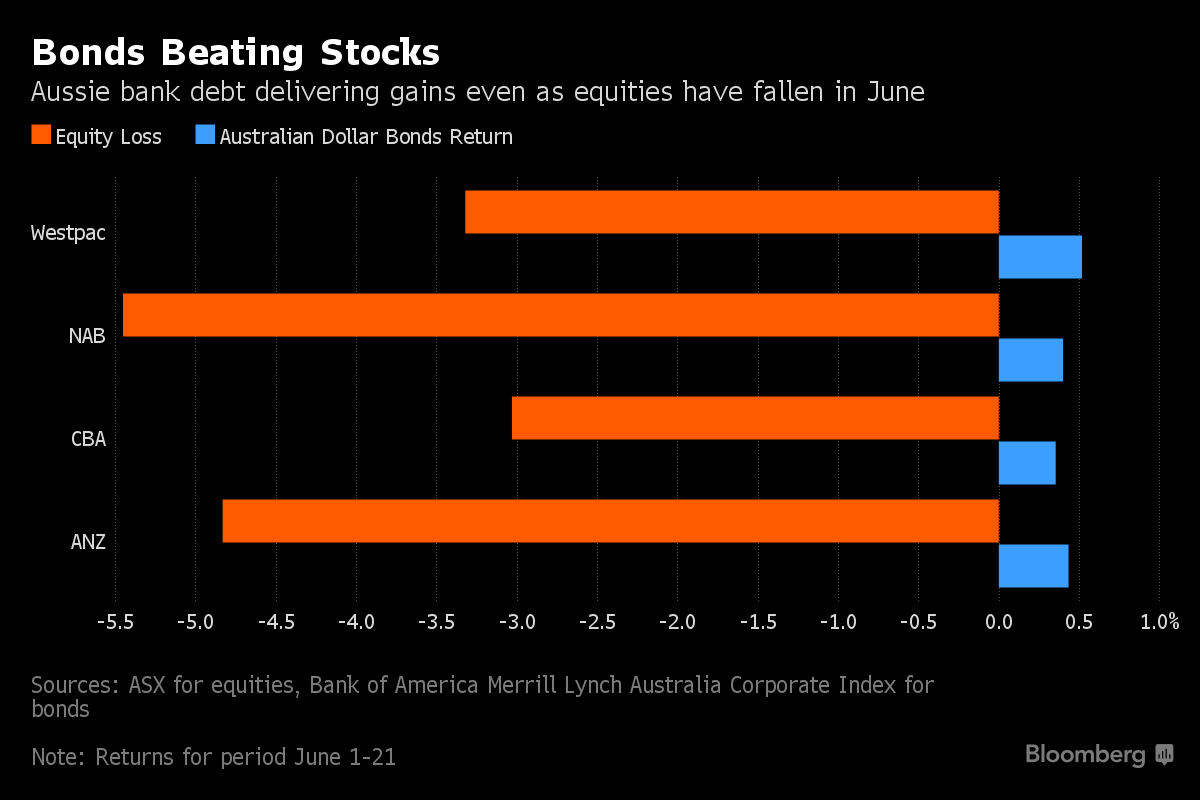 Before it's here, it's on the Bloomberg Terminal.
LEARN MORE