What Brexit Would Mean for Asia's Economies
by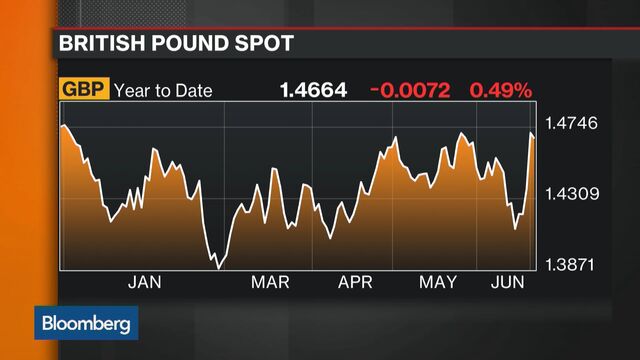 While a U.K. exit from the European Union would almost certainly cause turmoil in Europe, its effects on Asian economies including China, the region's largest, may be much more benign.
QuickTake Will Britain Leave the E.U.?
That's according to a note by London-based Capital Economics, which said a Brexit would cause at most a GDP drop of 0.2 percent across Asia.
The research company based its finding on a worst-case scenario estimate by the National Institute of Economic and Social Research, a London-based think tank, which said Brexit would reduce British imports by 25 percent worldwide within two years.
Exports to the U.K. presently account for only 0.7 percent of Asian countries' GDP, according to Daniel Martin, senior Asia economist at Capital Economics. "Even a 25 percent decline in U.K. imports would knock less than 0.2 percent off from regional GDP."
Only a few economies in Asia would see a noticeable effect on growth, Martin said. Examples include Cambodia, Vietnam and particularly Hong Kong, which have stronger trade ties with the U.K.
"In addition to merchandise exports, Hong Kong's exports of services to the U.K. are worth another 2.3 percent of GDP," he said.
Martin concludes that Brexit would have only a limited impact on emerging Asia, and says the main risks to the region lie elsewhere. They include the possibility of a sharp slowdown in China and a "messy unwinding" of the debt bubbles in some countries.
China can weather Brexit
In a separate paper, Capital Economics said the effects of Brexit would be equally subdued in the region's largest economy. China's exports to the U.K. are equivalent to just 0.5 percent of Chinese GDP, Chang Liu and Julian Evans-Pritchard wrote in a note published June 17.
"China is also well-placed to weather any post-Brexit sell-off in financial markets," they said. "Because China's capital account remains largely closed, the financial linkages between China and the rest of the world are fairly limited. Meanwhile, large foreign reserves mean the authorities could support the renminbi in the event that it came under renewed downward pressure."
Nevertheless, an array of Asian companies have made their preferences clear in favor of Britain remaining.
Eric Delomier, an investment specialist at Capital Group's Singapore office, said there would be geopolitical and trade implications for the region. "The U.K. leaving the union would be seen overall negatively from a trading perspective by most Asian countries," he said. "Also, China has been one of the leading foreign investors into the U.K., and clearly part of the appeal for Chinese investors is the broader access to the EU."
(This story was published in today's edition of Bloomberg Brief: Brexit Real-Time Brief. For more information on Bloomberg's newsletters, visit BRIEF<GO> or BloombergBriefs.com. )
Before it's here, it's on the Bloomberg Terminal.
LEARN MORE