Vikram Kumar Preparing Hedge-Fund Spinoff After Stellar 2015
by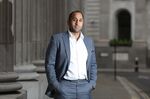 Hedge-fund manager Vikram Kumar, who returned 27 percent last year overseeing money for TT International, is preparing to separate from the London-based investment firm, according to a letter to investors.
Kumar is leading a team that will acquire management of the $496 million TT Long-Short Focus Fund and become independent next January. The firm, which manages about $6.2 billion, will retain a financial interest in the fund. Kumar and a spokesman for TT International confirmed the contents of the letter but declined further comment.
Kumar, 35, has managed the fund since it started in 2013. Last year it was the fifth-best performer in Bloomberg's global ranking of the top 25 hedge funds overseeing between $250 million and $1 billion. The fund lost 2.9 percent in the first five months of 2016, compared with a 2.2 percent decline in the Eurekahedge Europe Long Short Equities Hedge Fund Index.
"It is a natural evolution that we wanted to create an independent structure that allows for smooth transitioning of investor capital," Kumar said in the letter to clients sent by TT International on Friday and obtained by Bloomberg.
Concentrated Bets
Kumar joined the firm in 2008 from UBS Group AG, where he was a director of equity sales for European small and mid-cap stocks. He initially co-managed the TT Mid-Cap Long-Short Europe Fund before starting the TT Long-Short Focus Fund to take concentrated bets on companies with a market capitalization of 1 billion euros ($1.1 billion) to 10 billion euros. 
His new firm, subject to regulatory approval, will start with a team of 10 people and initially have offices in London and a research base in New York, according to the letter.
"We agree with Vikram that now is the right time for this entrepreneurial move and are assisting with the transition to ensure it is as smooth as possible," Tim Tacchi, founder and senior partner of TT International, said in the letter.
TT Long-Short Focus Fund's assets more than doubled during a tumultuous 2015. Hedge funds on an average lost money during the year and shutdowns outnumbered startups for the first time since 2009, according to data from Hedge Fund Research Inc.
Kumar, a Cambridge University alumnus, is striking out on his own even as the number of hedge funds continued to shrink last quarter. Already under pressure from rising regulatory costs, wild swings in stocks and commodities have battered managers' performance.
TT International, owned and run by 19 partners, was founded in 1988 and currently manages money across hedge funds and long-only equity strategies, with offices in London, Hong Kong and New York.
Before it's here, it's on the Bloomberg Terminal.
LEARN MORE