U.S. Stocks Advance After Weekly Slide as Brexit Concern Eases
by
Latest U.K. poll showed more Britons favor staying in EU

S&P 500 bounces after declines in six of prior seven sessions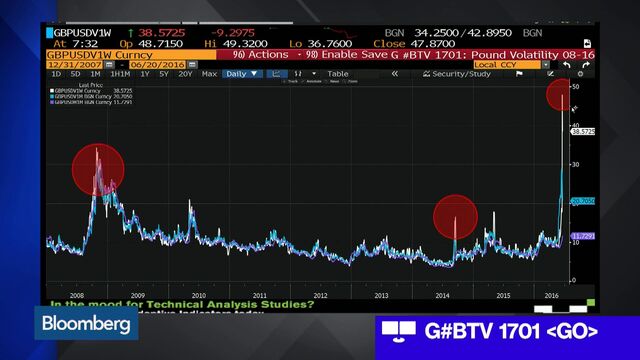 U.S. stocks climbed, with the S&P 500 Index rising the most in almost four weeks, after the latest polls showed the U.K. campaign to remain in the European Union is gaining ground before Thursday's referendum.
Monday's rebound was paced by gains in consumer discretionary, industrial and technology shares. Amazon.com Inc. and Priceline Group Inc. advanced more than 1 percent to bolster consumer companies. Banks moved higher amid a steep increase in Treasury yields as investors abandoned haven assets, with Bank of America Corp. and Goldman Sachs Group Inc. up more than 1 percent.
The S&P 500 rose 0.6 percent to 2,083.25 at 4 p.m. in New York, though it trimmed gains in the final hour before the looming U.K. vote and testimony tomorrow by Federal Reserve Chair Janet Yellen. The gauge had climbed as much as 1.4 percent. The Dow Jones Industrial Average rallied 129.71 points, or 0.7 percent, to 17,804.87. The Nasdaq Composite Index increased 0.8 percent, recovering from the lowest since May 23.
"We're kind of going back to that risk-on again -- it's more an unwind of the panic we saw last week in the VIX up at 22 and the bond buying, and it seems to be because of what's changing in the vote," Mark Kepner, a managing director and equity trader at Themis Trading LLC in Chatham, New Jersey, said by phone. "The market was starting to prepare for a Brexit and it seems the polls in the U.K have changed since late last week."
A poll published over the weekend showed 45 percent of voters supported the 'Remain' camp, while 42 percent were in favor of a so-called Brexit -- a turnaround from early last week, when a slew of surveys put the latter group ahead. Odds at betting shops also suggested dwindling support for the 'Leave' camp following Thursday's murder of U.K. lawmaker Jo Cox, who backed staying in the EU.

The S&P 500 bounced Monday after falling in six of the past seven sessions, a stretch that followed a climb to within 0.6 percent of its all-time high on June 8. The benchmark posted its worst weekly retreat since April amid global anxiety that Britain will choose to secede and central banks' efforts to boost growth are losing their potency.
Valuations stuck above the three-year average and four quarters of falling profits have also added to the recent hurdles for stocks. The S&P 500 briefly sprang back near 2,100 today, a level that's proved difficult to hold above in other rallies during the past year, and closed 2.2 percent from its record set 13 months ago.
The CBOE Volatility Index fell 5.4 percent today to 18.37, paring an early drop of nearly 15 percent. The measure of market turbulence known as the VIX capped a third consecutive weekly climb on Friday, the longest in five months. About 6.7 billion shares traded hands on U.S. exchanges, 3 percent below the three-month average.
Fed Watch
The Fed last week signaled a cautious approach to future rate increases, scaling back its projections for the next two years. Yellen and her fellow policy makers reiterated rates are likely to rise at a "gradual" pace. The Fed chair will testify on monetary policy before lawmakers Tuesday and Wednesday in a semiannual report. Traders have cut back their bets on higher borrowing costs, pricing in less than even odds for an increase as late as February 2017.
"Last week, the positioning got a little bit too bearish, and now we are seeing a readjustment of that," said Michael Hewson, a market analyst at CMC Markets in London. "People are talking about the slight shift in the betting odds with respect to this week's U.K. vote. Brexit is a risk, but is it going to bring the global economy crashing down? No. When you get stretched too far in one direction, don't be surprised it's like an elastic band -- you pull it, pull it, pull it, and it snaps."
Among the S&P 500's 10 main industries Monday, energy, industrial and consumer discretionary shares rose at least 0.8 percent, while technology and financial companies added more than 0.5 percent. Utilities slipped 0.4 percent, shaving an earlier 1.1 percent drop.
Auto-parts makers were the biggest gainers in consumer discretionary, with Delphi Automotive Plc and BorgWarner Inc. climbing more than 3.7 percent, the best for both since April. Federal-Mogul Holdings Corp. jumped as much as 9 percent after Carl Icahn raised his bid for the remaining 18 percent of the parts maker.
Travel Stocks
Travel-related companies surged, with Expedia Inc. joining Priceline and TripAdvisor Inc. with increases of more than 2.5 percent following an upgrade to the equivalent of buy from neutral at Atlantic Equities LLC. Royal Caribbean Cruises Ltd. and Carnival Corp. added at least 1.4 percent. A Wells Fargo analyst said cruise lines have underperformed amid concerns over the Brexit referendum, and are the best way in the leisure industry to play a "stay" vote.
Boeing Co. advanced 2.3 percent toward a five-week high, contributing to industrials' longest rally in two months. The aircraft maker is nearing a $4 billion deal with Russia's largest air-freight company that would help extend the life of the iconic, hump-nosed 747 jumbo jet, people close to the transaction said. General Electric Co. and 3M Co. added at least 1.2 percent. FedEx Corp. gained 1.4 percent. The delivery company said it will buy six Boeing 767 freighters valued at $1.2 billion.
Technology shares rose 0.5 percent, cutting the day's best gains by two-thirds. Semiconductors were the strongest members of the group, rallying the most since May 24, with Skyworks Solutions Inc. and Qorvo Inc. rallying more than 2.7 percent. Intel Corp. advanced 1.3 percent. Also among tech companies, EBay Inc. jumped 3.3 percent, its best one-day gain in 10 weeks.
Among stocks moving on corporate news, Marathon Oil Corp. soared 10 percent, its greatest gain in two months after saying it will buy PayRock Energy Holdings for $888 million. Marathon's climb led energy producers as West Texas Intermediate crude futures increased as much as 2.9 percent amid speculation the U.K. will vote to remain in the EU. Chevron Corp. added 1 percent and Devon Energy Corp. climbed 3.7 percent.
WellCare Health Plans Inc. rose to its highest since October 2007, with its 3.6 percent increase helping to boost the Russell 2000 Index to its best day in nearly a month. The climb comes after a Wall Street Journal report said Justice Department officials may be questioning the merger of Anthem Inc. and Cigna Corp., making WellCare a potential target. Rival managed-care companies Centene Corp. and Molina Healthcare Inc. Advanced at least 1.9 percent.
Before it's here, it's on the Bloomberg Terminal.
LEARN MORE