Treasuries Join Sovereign Debt Retreat as Brexit Momentum Fades
by
Two-year notes decline for a third day after $26 billion sale

German bunds also fall as U.K. polls shift to 'Remain'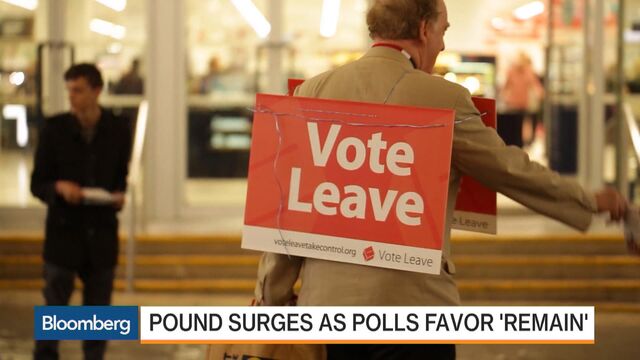 Treasuries fell, with 10-year note yields rising the most in a month, as polls signaling the campaign to keep the U.K. within the European Union was gaining momentum reduced demand for the safest fixed-income assets.
Two-year notes slid for a third day as the Treasury sold $26 billion of the securities. U.K. gilts and German bunds also declined. A poll showed the campaign for the U.K. to remain in the EU leading by three percentage points before the June 23 referendum, while Oddschecker data show a less-than-30 percent chance of "Leave" winning, down from as much as 45 percent last week.

"It's certainly a strong move, definitely based on some of the more favorable results for the 'Remain' camp," said Gennadiy Goldberg, interest-rate strategist at TD Securities LLC in New York, one of 23 primary dealers that trade with the Federal Reserve. "That's helping the market temper some of that pessimism we saw last week."
The safest government bonds are paring gains that last week pushed yields from Japan to Switzerland to record lows amid concern that the U.K. would vote to leave the world's largest trading bloc. Fed Chair Janet Yellen, who last week cited Britain's referendum among risk factors as officials kept U.S. interest rates on hold, is scheduled to address lawmakers on Tuesday and Wednesday.
Benchmark Treasury 10-year note yields climbed eight basis points, or 0.08 percentage point, to 1.69 percent at 5 p.m. New York time, the biggest increase since May 18. The price of the 1.625 percent security due in May 2026 was 99 13/32. The yield dropped to 1.52 percent on June 16, the lowest since August 2012. 
Auction Appetite
Two-year note yields rose five basis points to 0.75 percent.
Yields climbed to intraday highs late Monday after an ORB/Telegraph poll showed 53 percent support "Remain" while 46 percent back "Leave." A YouGov/Times poll released after Treasury market hours showed 42 percent support "Remain" versus 44 percent in the "Leave" camp.
The U.S. two-year notes sold Monday yielded 0.745 percent, the lowest at an auction of the securities since September and down from 0.92 percent at the previous offering on May 24. Direct bidders, non-primary-dealer investors that place their bids directly with the Treasury, purchased 9.9 percent of the notes, the lowest award since January 2015. By contrast, those buyers snapped up 32.5 percent at last month's two-year auction, the most since 2012.
"People are not highly motivated to be placing bets in front of this Brexit vote, even though it's looking like it will be a 'Remain,"' said Tom Tucci, managing director and head of Treasury trading in New York at CIBC World Markets Corp. "Some of the people that are at the margin probably didn't participate because they'll be happy to wait until the end of the week to see if something else transpires before they reinvest or invest."
The Treasury is scheduled to sell $34 billion of five-year notes Tuesday. It plans to auction $28 billion of seven-year debt a day later, as well as two-year floating-rate notes and Treasury Inflation Protected Securities due in February 2046.
Before it's here, it's on the Bloomberg Terminal.
LEARN MORE