Two-Speed Recovery Means One Less Worry for Russian Central Bank
by
Retail sales plunge in May even as wages, unemployment improve

Central bank resumed rate cuts in June as inflation stalled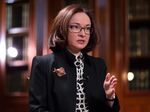 As consumer demand becomes the laggard in Russia's recovery, Governor Elvira Nabiullina has one less thing to worry about after the central bank's first interest-rate cut in almost a year.
While industrial production expanded for two months, domestic spending remains in distress, throttling inflation. Data on Monday showed a plunge in retail sales accelerated in May even as unemployment fell more than forecast to the lowest in seven months and a decline in real wages unexpectedly eased.
"Russian consumption will remain weak and doesn't create any threat for consumer-price growth, opening the possibility for a gradual reduction of the key rate, " Vladimir Tikhomirov, chief economist at Moscow-based BCS Financial Group, said by phone. "While there are chances for the economy to grow in the second half of the year, the expansion will be weak and driven by recovery or stabilization in the real sector, while consumption will stagnate in the best case."
The improving outlook for the economy of the world's biggest energy exporter is failing to generate traction among consumers. Households endured the brunt of Russia's longest recession under President Vladimir Putin, now in its second year, after authorities responded to the collapse in oil with spending cutbacks and allowed the ruble to weaken. 
The Russian currency has appreciated more than 14 percent against the dollar this year after a 20 percent loss in 2015. Forward-rate agreements are signaling 45 basis points of decreases in borrowing costs during the next three months.

With inflation stalling at 7.3 percent for three months, the Bank of Russia reduced borrowing costs in June, cutting its benchmark to 10.5 percent. Rate setters said they were growing more confident "in steadily positive trends in the inflation dynamics," according to a statement.
"Economic activity indicators improve along with ongoing low consumer demand and a high rate of savings, without creating upward pressure on consumer prices," policy makers said.
Annual inflation will end the year at 7.7 percent and slow to 6.2 percent in 2017, still above the central bank's 4 percent target, according to economists polled by Bloomberg. While the risks of missing next year's aim have declined, they remain at a "heightened level," the Bank of Russia said in its statement after the rate decision. It reduced its inflation forecast to 5 percent to 6 percent at end-2016 as weak demand keeps a lid on prices.
Nominal Wages
Nominal salaries, which policy makers previously singled out as a key threat to inflation, in May grew at a slower annual pace than consumer prices for the second month. Retail sales plunged 6.1 percent from a year earlier after a revised 4.9 percent drop in April. The jobless rate dropped to 5.6 percent while real wages declined 1 percent.
The central bank, which missed its target for a fourth straight year in 2015, said it will "consider the possibility" of further easing if inflation is in line with forecasts and based on estimates of risks to price growth.
"Disinflationary pressures caused by the recession last year will start to assert themselves," Capital Economics Ltd. analysts said in a report. "While the economy is through the worst, the recovery will be slow-going. A combination of only a gradual recovery in demand against a backdrop of recession-induced spare capacity means that underlying inflation pressures will remain extremely low."
Before it's here, it's on the Bloomberg Terminal.
LEARN MORE