Rio Must Get Federal Aid to Avoid Olympic Shame: Official
By
Essential services are coming to a halt, says Temer adviser

Temer, Meirelles meeting governors in Brasilia to discuss debt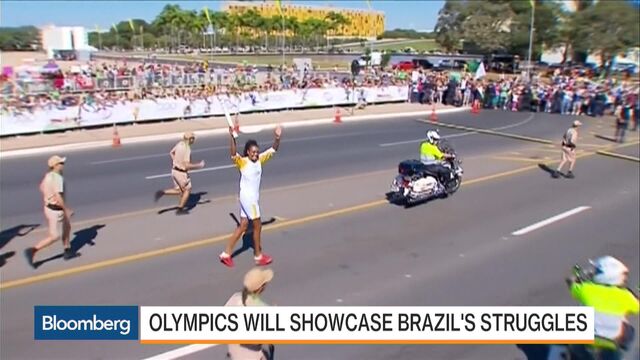 Brazil's federal government must provide financial support to the nearly-bankrupt state of Rio de Janeiro to avoid the shame of a disappointing Olympics, according to a top official in the administration of Acting President Michel Temer.
Rio decreed "a state of public calamity" on Friday after rising pension obligations combined with plunging tax receipts and oil royalties drained its coffers. That's forced the state to enact budget cuts and delay payments to public servants. With the games looming in less than 50 days, Rio's "essential services are stopping," said Moreira Franco, executive secretary of the government's investment partnership program.
"Brazil, whose image is already very tainted because of economic-policy errors, can't suffer that much embarrassment during the biggest sporting event watched by humanity," Franco, a former governor of Rio, told reporters.
To read about Rio state's financial troubles, click here
Governors of Rio and other states convened Monday morning in Brasilia before meeting with Temer and Finance Minister Henrique Meirelles to renegotiate some 427 billion reais ($126 billion) in debt owed to the federal government. The federal Treasury itself is struggling with a near-record budget deficit that has cost Brazil its investment-grade credit rating.
The federal government has offered what it's calling a two-year "grace period" during which states would progressively resume paying their obligations. Governors are proposing no debt payments for that period, said Goias State Governor Marconi Perillo.
"We expect to conclude the negotiations today," Perillo told reporters in Brasilia.
Rio's calamity decree affirmed that the financial crisis is severely affecting provision of public services and could prompt the "total collapse" of public security, health, education, mobility and environmental management, and is preventing it from honoring its Olympic commitments.
Fitch Ratings last week cut Rio's rating two notches to B-, citing rising pension payments and the use of non-recurring revenue to cover operating expenses. Rio's Mayor Eduardo Paes wrote on Twitter June 17 that the state of emergency won't delay delivery of Olympic arenas or legacy projects carried out by the city.