Rajan Urges India to Continue Inflation War as Critics Mount
by and
Modi government comments raise questions about inflation fight

'I don't think Rajan's approach has been institutionalized'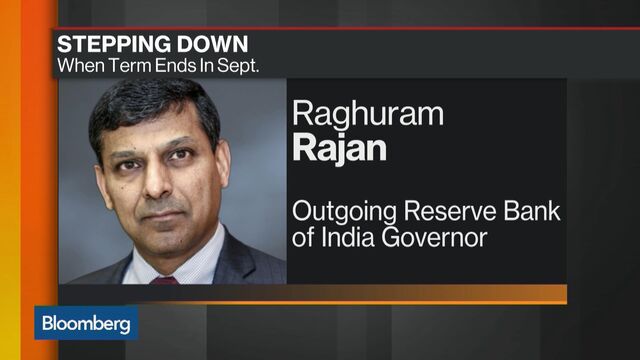 As central bank Governor Raghuram Rajan prepares to leave, he has one request for India: Don't stop fighting inflation.
In an impassioned defense of his policies on Monday night, Rajan called the battle to stem price gains "revolutionary" and urged his successor to stay the course. Any diversion, he argued, would again impose "the hidden inflation tax" on the poor and middle class.
Investors are watching for signs that the inflation-targeting regime spearheaded by Rajan is strong enough to outlast him. Before he surprised India by saying he would return to academia in September, many investors expected him to stay on another few years to oversee a new monetary policy committee that would target specific inflation goals.
Now comments from Prime Minister Narendra Modi's allies are raising fresh questions about India's commitment to stemming one of Asia's fastest inflation rates. A senior government official told reporters on Monday that high interest rates were hurting domestic industry, while Subramanian Swamy, a member of Modi's ruling party who led a campaign to oust Rajan, has called for scrapping the inflation target altogether.
To read more on the political spat that prompted Rajan's decision, click here.
"I don't think Rajan's approach has been institutionalized," said Tirthankar Patnaik, a Mumbai-based economist at Mizuho Bank Ltd. "I'm not of the belief that this is beyond a person, that we're so mature in our management of inflation, liquidity, monetary policy."
Modi's government on Monday sought to limit the fallout from Rajan's planned exit, easing rules on foreign investment and saying a monetary policy committee would be in place soon. The rupee pared declines on Monday after hitting a one-month low on suspected central bank intervention and net purchases of domestic equities by local funds and state-run insurance companies. The currency fell 0.2 percent of 9:49 a.m. in Mumbai on Tuesday.
A government official also said five candidates are in the running to succeed Rajan. They are two finance ministry officials -- Economic Affairs Secretary Shaktikanta Das and Chief Economic Adviser Arvind Subramanian -- as well as a trio of current or former deputy RBI governors: Urjit Patel, Rakesh Mohan and Subir Gokarn.
For a Gadfly column on how Rajan's exit may unnerve investors, click here.
Whoever is setting interest rates after Rajan will face a tougher external environment. Low oil costs have helped make the transition to inflation-targeting relatively painless so far, enabling Rajan to cut interest rates to a five-year low as prices eased.
When his successor starts in September, a looming pay bump for civil servants and rising fuel prices risk stoking inflation. Consumer price gains reached 5.76 percent in May -- higher than Rajan's target of 5 percent by March 2017 and 4 percent 12 months later.
"The real hard work starts now," said Sonal Varma, an economist at Nomura Holdings Inc. in Singapore. The target of 4 percent looks "a lot more difficult" without economic reforms, she said.  
The target itself may be open for interpretation. While the Reserve Bank of India Act was amended to reflect the adoption of an inflation targeting regime, the figure is a range -- 4 percent, plus or minus 2 percent -- that was listed in a separate agreement between the central bank and finance ministry.
"It remains to be seen how the RBI interprets the target in Dr. Rajan's absence," Prasanna Ananthasubramanian, chief economist at ICICI Securities Primary Dealership in Mumbai, wrote to investors.
'Cannot Go Back'
Other analysts are more confident that India won't revert to its old ways of looking at a variety of indicators to set interest rates. An explicit target for consumer prices indicates that the central bank will stay focused on inflation, according to Ashutosh Datar, an economist with Mumbai-based brokerage IIFL Institutional Equities Ltd.
"Things cannot go back to the way they were before," wrote Datar, who in September was the only economist who correctly guessed a 50 basis-point rate cut.
Even so, the new system is still in its infancy and largely untested. Even as inflation slowed, household expectations of future prices remain stubbornly high. Economists in a Bloomberg survey expect one more quarter-point interest rate cut in the calendar year.
'Clear Attack'
Rajan directly challenged his critics on interest rates on Monday, saying that they either wanted the government to approve a higher inflation target or thought the central bank had a pessimistic outlook on inflation. Since consumer price gains are close to the upper bound of the target, he said, it "suggests we have not been overly hawkish, and were wise to disregard advice in the past to cut more deeply."
"Adjustment is difficult and painful in the short run," he said. "We must not get diverted as we build the institutions necessary to secure a low inflation future, especially because we seem to be making headway."
Still, political considerations -- including elections in India's biggest state next year, and national polls in 2019 -- might lead to more calls for interest-rate cuts and higher government spending, escalating inflation pressures.
Modi allies who wanted Rajan gone will probably seek more easing and a push for state-run banks to restart lending, said Alberto Gallo, head of macro strategies at Algebris Investments Ltd. in London.
"His successor will face the challenge of appearing independent and credible to the market, after what is a clear attack on the central bank from factions within the government," he wrote. If they get their way, "the conclusion is likely to be a short-term, short-sighted stimulus today, which will be paid for with higher inflation and weaker banks tomorrow."
Before it's here, it's on the Bloomberg Terminal.
LEARN MORE