Rajan Defends Inflation Fight, Says India Should Stay Course
by and
'The wrong thing to do at such times is to change course'

RBI 'wise to disregard advice in the past to cut more deeply'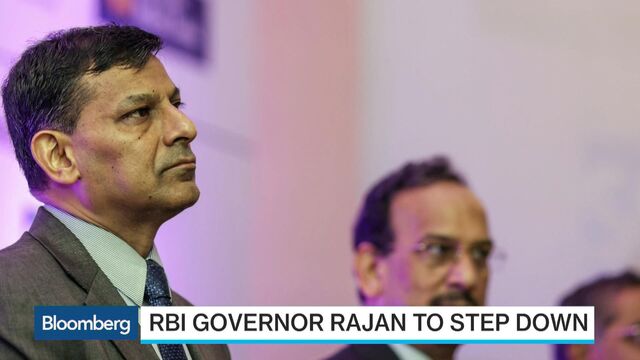 Indian central bank Governor Raghuram Rajan defended his monetary policy against critics who want to see lower interest rates and called on his successor to continue fighting inflation after he leaves in September.
In his first comments since surprising India with his exit plans on Saturday, Rajan spoke of the need to continue shifting the nation toward a low-inflation economy. He called for policy makers to resist pleas for large reductions in the benchmark interest rate, which he has cut to a five-year low.
"The wrong thing to do at such times is to change course," Rajan said, according to a text of his remarks. "As soon as economic policy becomes painful, clever economists always suggest new unorthodox painless pathways. This is not a problem specific to emerging markets, but becomes especially acute since every emerging market thinks it is unique, and the laws of economics operate differently here."
Rajan's announcement came after Prime Minister Narendra Modi's allies attacked him for keeping interest rates too high. The former International Monetary Fund economist was widely hailed by investors who credited him with improving India's macro-economic stability with moves to buoy the rupee, ease inflation and clean up the banking system.
To read more on the political spat that prompted Rajan's decision, click here.
Modi's government moved to show that its reform plans were still on track on Monday, allowing 100 percent foreign investment in sectors from local airlines to cable-television providers. The rupee, Asia's worst performing currency this year, slipped to a one-month low on Monday before paring its declines on suspected intervention by the central bank.
Rajan lauded the inflation-targeting framework set up during his tenure, which includes the creation of an independent monetary policy committee. High prices mostly hurt the poor, he said, while low inflation leads to sustainable economic growth.
"In the days ahead, a new governor, as well as the members of the committee will be picked," Rajan said. "I am sure they will internalize the frameworks and institutions that have been set up, and should produce a low inflation future for India."
Other highlights from Rajan's speech:
"We had gotten used to decades of moderate to high inflation, with industrialists and governments paying negative real interest rates and the burden of the hidden inflation tax falling on the middle class saver and the poor. What is happening today is truly revolutionary – we are abandoning the ways of the past that benefited the few at the expense of the many."
"Indeed, the fact that inflation is fairly close to the upper bound of our target zone today suggests we have not been overly hawkish, and were wise to disregard advice in the past to cut more deeply." 
"If a critic believes interest rates are excessively high, he either has to argue the government-set inflation target should be higher than it is today, or that the RBI is excessively pessimistic about the path of future inflation. He cannot have it both ways, want lower inflation as well as lower policy rates."
"At the same time, the RBI does not focus on inflation to the exclusion of growth."
"The bottom line is that in controlling inflation, monetary policy makers effectively end up balancing the interests of both investors and savers over the business cycle."
"Decades of studying macroeconomic policy tells me to be very wary of economists who say you can have it all if only you try something out of the box. Argentina, Brazil, and Venezuela tried unorthodox policies with depressingly orthodox consequences."
Before it's here, it's on the Bloomberg Terminal.
LEARN MORE