Pound to Rally Most Against Yen If 'Remain' Wins U.K. Referendum
by
Sterling to gain 10% versus yen, 3% against dollar: Macquarie

'Remain' win will give sterling 'double boost' versus yen: RBS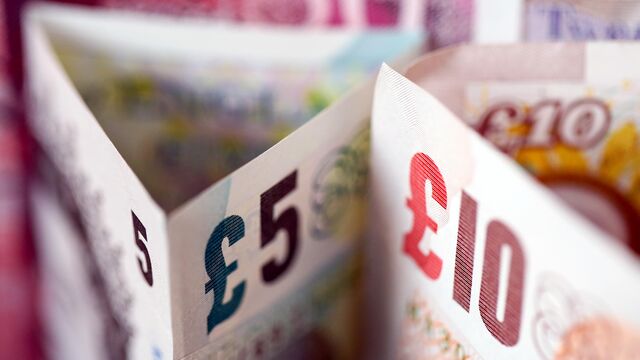 The yen is set to be the big loser if Britons vote to stay in the European Union, triggering pound buying.
In the event of a "Remain" vote, the prospect of higher U.S. interest rates as soon as July may limit sterling's advance against the greenback, with the Bank England unlikely to be in a rush to follow the Federal Reserve, according to Macquarie Bank Ltd. and Royal Bank of Scotland Group Plc. On the other hand, more than half of analysts surveyed by Bloomberg expect the Bank of Japan to add currency-sapping stimulus next month.
The pound gained the most versus the yen among 16 major peers Monday after a poll before Thursday's historic vote showed a tilt in favor of the U.K. remaining in the 28-nation bloc. Sterling has weakened almost 5 percent against Japan's currency this month as worries a so-called Brexit would spark turmoil across global markets drove investors to the safest assets. The yen surged to 103.55 per dollar last week, the strongest level since August 2014.
"If the U.K. votes to stay, then dollar-yen should experience a moderate relief rally," said Gareth Berry, a foreign-exchange and rates strategist in Singapore at Macquarie. "The combination of a higher pound against the dollar with a higher dollar-yen too means the pound-yen cross will travel further than either pair combined. That's a mathematical certainty."

Sterling jumped 1.7 percent to $1.4599 and 2.1 percent to 152.74 yen at 8:38 a.m. in London. A poll taken on Friday and Saturday -- immediately after pro-Europe British lawmaker Jo Cox's killing on June 16 -- showed the campaign for the U.K. to remain in the EU was gaining momentum.
For a quick view on recent Brexit surveys, click here
The pound is set to rally about 10 percent to 168 yen, and about 3 percent to $1.50 by the end of the third quarter on a "Remain" vote, said Nizam Idris, head of foreign-exchange and fixed-income strategy at Macquarie in Singapore.
"If the U.K. votes to remain, then the pound is likely to trade back towards $1.50 as U.K. financial markets rally and dollar-yen will go back into a higher 105-to-110 range ahead of next month's Fed and BOJ meetings," said Mansoor Mohi-uddin, a Singapore-based strategist at Royal Bank of Scotland. "This will give the pound a double boost higher against the yen even if the BOE were to keep a neutral stance on interest rates in the event of a "Remain" vote."
Bookmakers' odds of the U.K. voting to exit the EU fell are now about 31 percent, with the poll from Survation for the Mail on Sunday newspaper showing 45 percent of people back the "Remain" camp, while 42 percent support "Leave."
Before it's here, it's on the Bloomberg Terminal.
LEARN MORE