Brexit or Remain, Sakakibara Sees Yen Rise to 100 as Inevitable
by and
'The weak yen trend is over,' says ex-Japan MOF official

'There will be no intervention before 100,' says Mr. Yen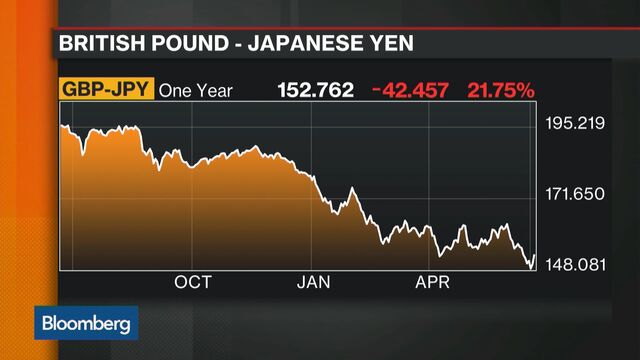 The yen will strengthen past 100 per dollar this year, whichever way the U.K. votes in Thursday's referendum, according to Eisuke Sakakibara. The only difference is how fast it gets there.
After predicting the currency's relentless march beyond 115, 110 and 105, the man known as Mr. Yen says a victory by those campaigning for Britain to remain in the European Union is already largely priced in by investors, limiting its potential to weaken Japan's currency. A vote for so-called Brexit would be a "disaster," and could see the yen spike above 100 as investors scurry for the safest assets, said Sakakibara, who won his nickname by influencing the yen's value as a Ministry of Finance official in the 1990s. The currency rose Tuesday, heading for its longest rally in five years.
"When this kind of trend sets in, it's very quick -- so the yen may break 100 at any time," the 75-year-old said in an interview in Tokyo on Monday. "The currency may temporarily go to 107 or 108, but the trend won't change."
The yen has surprised most analysts by surging about 15 percent against the dollar in 2016 -- the best performance among developed-market currencies -- as it benefits from investor concern about China's economic slowdown, the stuttering U.S. recovery and this week's Brexit vote. Even Sakakibara, in the minority who picked the currency's climb, was too conservative, saying in January that the yen would rise toward 110 per dollar. It reached 103.55 last week, the strongest level since August 2014, after the Bank of Japan again refrained from additional easing.

The yen's value reflects differences between local monetary policy and that in the U.S., with Federal Reserve officials taking a slower approach to raising interest rates than had been anticipated and the Bank of Japan losing its power to affect the exchange rate with further easing, according to Sakakibara, who is now a professor at Tokyo's Aoyama Gakuin University.
The BOJ's own measure of the currency's nominal effective exchange rate has climbed to the highest since March 2013, a month before Governor Haruhiko Kuroda introduced unprecedented stimulus.
"They're been easing for a long time, so the effectiveness is becoming less and less, there's no doubt about it," Sakakibara said. "If the BOJ expands stimulus again aggressively, it can halt the yen's advance to some extent, but it's not a case of weakening it. Looking at the global economy, a return to 120 or 125 yen per dollar is hard to imagine."
The yen reached a 13-year low of 125.86 in June of last year. It declined 0.5 percent to 104.48 at 9:04 a.m. in London Tuesday.
Defying Jawboning
Gains in the currency have defied attempts by Japanese officials to talk it lower. Finance Minister Taro Aso said Friday he wants "to coordinate closely with other nations to deal with" abrupt moves in the yen. Japan's Chief Cabinet Secretary Yoshihide Suga said the day before that sudden, speculative moves have been seen in the currency market and that he was "extremely concerned."
Sakakibara says too much talk without any action could be counterproductive. At the same time, intervention to drive the yen lower won't be effective without agreement from the U.S., he said, and that won't be forthcoming at current levels.
"There will be no intervention before 100, but the U.S. also doesn't want too weak a dollar," he said. "So if the yen is heading toward 90, it's possible Japan would get U.S. backing to do something."
Forecast Consensus
Sakakibara's bullishness on Japan's currency contrasts with the consensus among forecasters, who started 2016 projecting a decline to 125 per dollar by year-end and now expect a drop to 112. The yen is on track for its best annual performance since the global financial crisis in 2008.
"The weak-yen trend is over -- it's a strong-yen trend now," Sakakibara said. "How long it lasts depends on how Japanese and U.S. officials react, what kind of agreement they can reach."
Before it's here, it's on the Bloomberg Terminal.
LEARN MORE