Italy's Bonds Advance With Spain's as Brexit Concern Fades
by
Spanish-German spread posts biggest two-day drop since July

Survation poll shows 'Remain' regains lead over 'Leave'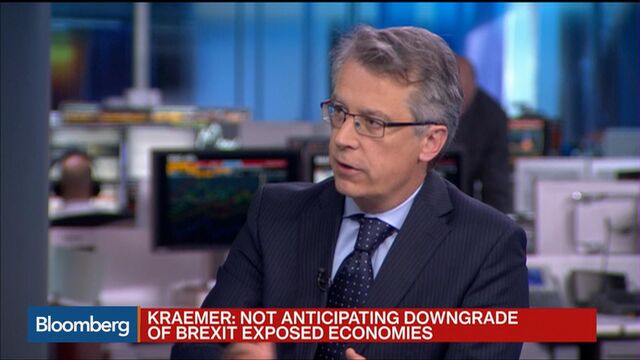 Italian and Spanish government bonds advanced as investors favored higher-yielding assets after the latest U.K. opinion polls suggested the risk of Britain voting to leave the European Union in a referendum this week has declined.
Germany's 10-year bunds, Europe's benchmark sovereign securities, fell for a second day. The yield difference, or spread, between them and similar-maturity Spanish bonds was set for the biggest two-day decline since July. A phone poll from Survation taken June 17-18 for the Mail on Sunday newspaper showed "Remain" backed by 45 percent and "Leave" by 42 percent, reversing positions from Survation's previous survey.

Along with the pound, European government bonds have been driven by the ebb and flow of opinion polls before the U.K.'s June 23 referendum. Campaigning resumed Sunday after a 2 1/2-day suspension following the killing of British lawmaker Jo Cox. German 10-year bund yields fell below zero for the first time last week on haven demand as investors judged a vote by Britain to leave the EU will destabilize Europe.
"The spread between German and peripheral bonds are narrowing as people appear to be less worried now" about Brexit, said Soeren Moerch, head of fixed-income trading at Danske Bank A/S in Copenhagen. "But turnover is low. There's still a lot of uncertainty."
Yields Decline
Italian 10-year bond yields dropped eight basis points, or 0.08 percentage point, to 1.44 percent as of 4:15 p.m. London time. The 1.6 percent security due in June 2026 rose 0.715, or 7.15 euros per 1,000-euro ($1,132) face amount, to 101.575. The yield on similar-maturity Spanish bonds fell eight basis points to 1.48 percent.
German 10-year bund yields increased five basis points to 0.06 percent, narrowing the spread versus Spanish securities to 1.42 percentage points. The gap has shrunk from a two-month high reached on June 16, dropping 20 basis points in the past two sessions, the most since July 10.
"Our view is now that Brexit risks are overpriced," said Mark Dowding, a London-based partner and portfolio manager at Royal Bank of Canada's BlueBay Asset Management, which has $63 billion in assets. "We believe that polls will swing back to 'Remain' and so this is a time to add risk in assets."
Germany's government securities outperformed their peripheral peers in the past month. They returned 1.5 percent, according to Bloomberg World Bond Indexes, while Italian and Spanish sovereign debt earned 0.3 percent.
Before it's here, it's on the Bloomberg Terminal.
LEARN MORE