IEX Sees Winning Enough Volume to Muscle Into Top Exchange Ranks
by
No more limits on company's growth, CEO Katsuyama says

IEX just won SEC permission to open the Investors Exchange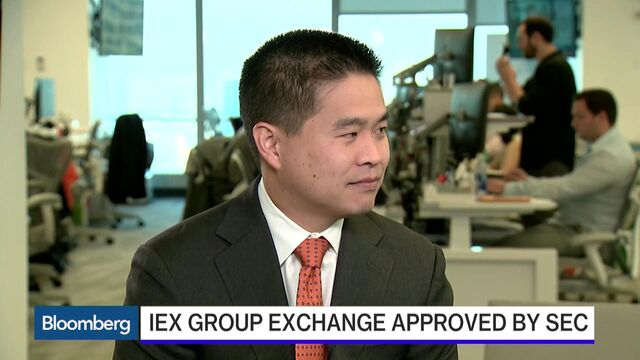 Now that IEX Group Inc. has the same coveted regulatory status as the New York Stock Exchange, Nasdaq Inc. and Bats Global Markets Inc., the company's chief executive officer plans to steal a significant chunk of business from them.
As a dark pool, IEX handles less than 2 percent of U.S. stock trading; NYSE, Bats and Nasdaq each process roughly 20 percent. But the Securities and Exchange Commission on Friday gave IEX a regulatory upgrade, clearing the way for it to open a new stock market, called the Investors Exchange, in August.
"There are limits to how big dark pools can grow, and we no longer have a limit to how large we can grow," IEX Chief Executive Officer Brad Katsuyama said Monday in a Bloomberg Television interview. "It will take some time, but we are confident that we can become one of the largest markets."
IEX pitches its platform's 350-microsecond speed bump on orders as an antidote to speed-driven trading strategies it views as predatory. It'll be the only U.S. stock exchange with an intentional delay.
The company may attempt to bring its business model to other asset classes and countries, though for now it's focused on U.S. stocks, Katsuyama said during the interview. He declined to identify those other areas. "There's a void of trust in different markets," he said.
Before it's here, it's on the Bloomberg Terminal.
LEARN MORE