Hong Kong Petitions China on Crime Cases Amid Bookseller Claims
by and
A letter will be sent to Chinese authorities, Leung says

Other booksellers question Lam's version of detention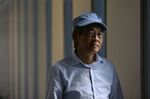 Hong Kong will review its system of criminal notifications with China after authorities in Beijing took months to provide information about the detention of a Hong Kong citizen despite repeated requests from the city's police.
Lam Wing-kee, one of five Hong Kong booksellers held in China, last week returned to the city and detailed his months-long detention on the mainland, reigniting a case that had drawn international criticism about Beijing's encroachment on Hong Kong's autonomy.
"Today we will write to the central government to immediately express Hong Kong people's concerns on this case," Chief Executive Leung Chun-ying said at a news conference Monday. "There's room for review and possibly, improvement, in the notification system."
Lam said last week that in October last year he had been accosted by 11 people after crossing the border into the southern city of Shenzhen and was taken to the eastern city of Ningbo.
Two other men who worked at the Hong Kong bookshop, Causeway Bay Books, known for its salacious publications about the Chinese Communist Party elite, were also taken into custody on the mainland in October. Another, Lee Bo -- also called Lee Po -- vanished from Hong Kong in December, sparking allegations that he had been abducted. Gui Minhai, who holds a Swedish passport, disappeared from Thailand in October.
Police in the southern Chinese province of Guangdong only told their Hong Kong counterparts on Feb. 4 -- months after their disappearances -- that booksellers Lam, Lui Por and Cheung Chi Ping were being probed in connection with Gui, author of some of the books.
To read more about Hong Hong's salacious-books trade, click here
Lam said he had spoken to Lee when they were both detained in China, and that Lee told him that he had been kidnapped in Hong Kong. Lee disputed that account in a Facebook post Friday, saying he never told Lam how he got to the mainland and never said he was taken against his will.
Lam also said that a confession that he had made and which has been broadcast on Chinese television had been scripted, edited and supervised by a director. Lui and Cheung have disputed Lam's account, according to interviews in Chinese newspaper Sing Tao Daily.
The case has fanned concerns about China's encroachment on the city's autonomy, guaranteed to the former British colony under the "One Country, Two Systems" principle when it was returned to China in 1997. Thousands of protesters took to Hong Kong's streets on Saturday in a show of support for Lam and the city's autonomy.
Hong Kong's government said in February that only Hong Kong's law-enforcement agencies can enforce laws in the city and that its police are seeking assistance from mainland Chinese authorities.
Before it's here, it's on the Bloomberg Terminal.
LEARN MORE