Former BOE Official Gieve Sees Brexit Policy Dilemma for Carney
by
Brexit could lead to shock to demand and inflation, Gieve says

Latest polls show 'Remain' regaining lead before June 23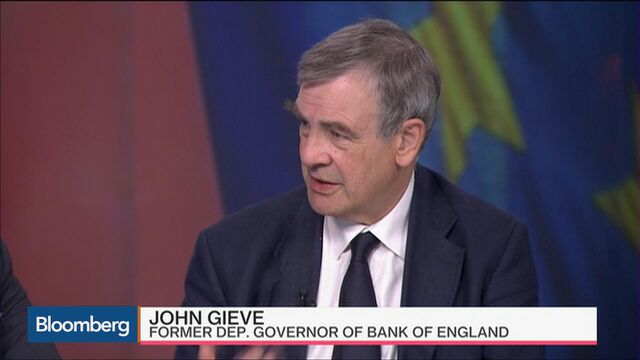 Mark Carney will face a policy quandary if Britain votes to leave the European Union this week, according to former Bank of England Deputy Governor John Gieve.
While Brexit could mean interest-rate cuts or other stimulus are needed to support growth, Gieve said Carney, the BOE's governor, may also have to be wary of exacerbating a slump in the pound.
"There will be a shock to demand, so that means that there will be something pressing them to make policy more expansionary," he said in an interview on Bloomberg Television with Francine Lacqua. "But there will also likely be a fall in the exchange rate and a shock to inflation, which will go the other way."
Carney has acknowledged this dilemma, saying policy makers could face a "challenging trade-off" between weaker growth and upward price pressure if the U.K. votes to quit the EU. In the minutes of their meeting this month, policy makers said Brexit "could materially alter the outlook for output and inflation."
Bloomberg Intelligence economists say the Monetary Policy Committee will likely look through the impact of higher import prices on inflation and loosen policy, while 85 percent of economists in a Bloomberg survey said the economy would need support in the event of Brexit. Rate cuts, credit-easing measures and quantitative easing are all likely options.
Trust
Establishing trust will be another key challenge for institutions in Britain, said Gieve, who was in charge of financial stability at the BOE during the run on Northern Rock Plc in 2007.
The intense referendum campaign has divided political parties, with Prime Minister David Cameron's Conservatives becoming increasingly fractious in the run-up to the vote. The "Leave" campaign has also criticized Carney for intervening in the debate and generating fear about the potential effects of Brexit.
"For the first few months, the key task of the bank and the government is to establish some credibility with the international markets -- that they have a plan and that they can be trusted to stick to it," Gieve said.
While the BOE and other central banks have tools in place to reassure markets, with interest rates at or near lower bounds their ability to stoke long-term growth in the face of a shock to demand could be limited.
The BOE is already putting defenses in place to boost market confidence and the financial system in the event of Brexit, including a series of extra market operations around the vote to shore up liquidity.
Before it's here, it's on the Bloomberg Terminal.
LEARN MORE