Europe Shares Jump as Poll Shows U.K. Support Swings to 'Remain'
by and
All industry groups gain, while measure of volatility slides

Weekend poll shows 45% of Britons now back staying in EU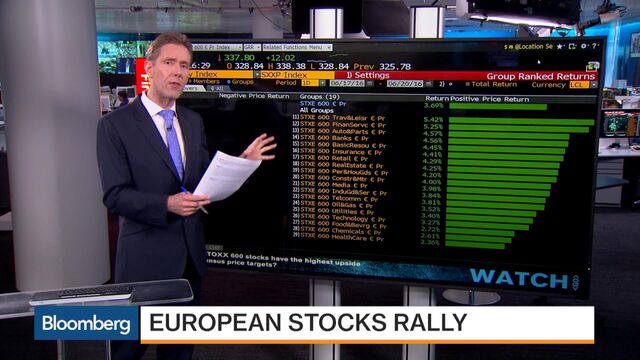 Bulls rushed back into the market after three weeks of heavy selling, sending European stocks to their biggest gains since August as polls showed more Britons back staying in the European Union.
Brexit Watch: The pound, the polls, and the probability of Brexit, all in one place
The Stoxx Europe 600 Index jumped 3.7 percent to 337.67 at the close of trading, rallying more in one day than it has in any full week since February and building on Friday's 1.4 percent advance. All major western-European markets climbed, with the U.K.'s benchmark FTSE 100 Index adding 3 percent, while sterling surged. The volume of Stoxx 600 shares changing hands was 22 percent higher than the 30-day average and a measure of euro-area equity volatility slid 10 percent, the most since March.
"It's a continued move from Friday when we already had some relief," said Christian Gattiker, head of research at Julius Baer Group Ltd. in Zurich. "The momentum for Brexit was so strong and it was suddenly broken, which caught everyone by surprise. We were steering into a clear Brexit scenario and now we've seen a counter move which makes it more balanced, more in line with what investors thought in the first place."

European shares trimmed a weekly loss on Friday as Brexit concern eased amid a suspension of campaigning following the murder of Labour Party lawmaker Jo Cox, who backed "Remain." A poll published over the weekend showed 45 percent of voters supported staying in the EU, while 42 percent were in favor of a secession -- a turnaround from early last week when surveys put the latter group ahead. Odds at betting shops suggest there's about a 26 percent chance of Britons voting to pull out of the bloc, down from as much as 44 percent before Cox's death on Thursday, Oddschecker data show.
European stocks have struggled to maintain momentum after rallying as much as 16 percent from a February low to an April 20 high. Polls indicating a lead for the U.K.'s "Leave" campaign weighed on shares last week. A drop in oil prices, concerns over monetary policy after the Federal Reserve and the Bank of Japan kept policies unchanged, and Spain's upcoming general election also damped sentiment.
Among stocks moving on corporate news today, UniCredit SpA rose 3.4 percent. The lender is accelerating its search for a new chief executive officer and former Intesa Sanpaolo SpA CEO Corrado Passera is among those being considered, people with knowledge of the matter said. Banco Bilbao Vizcaya Argentaria SA advanced 2.9 percent after reports that the Spanish lender instigated a new strategic plan in March that wasn't announced to the market.
Volkswagen AG jumped 5.1 percent after a person familiar with the matter said the German carmaker will submit this month its $10 billion plan to fix a half-million emissions-cheating cars or get them off U.S. roads. Bayer AG added 2.7 percent after a report that it is in talks with investment banks about exploring strategic alternatives for its radiology supplies business, which may be worth more than $3 billion. 
Adidas AG climbed 4.1 percent after agreeing a new four-year sponsorship contract for the German soccer team. UbiSoft Entertainment gained 8 percent after Vivendi SA increased its stake in the company to 20.1 percent and said it may continue buying shares. Vivendi rose 3.2 percent.
(A previous version of this story was corrected to remove a reference to record high support for Brexit in Oddschecker betting odds.)
Before it's here, it's on the Bloomberg Terminal.
LEARN MORE