EU Membership Is Making It Harder to Buy Protection Against Brexit
Revisiting a regional ban on some sovereign CDS trading.
by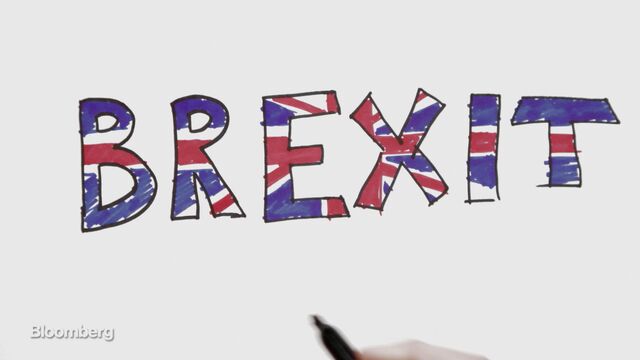 Put it down as another purported constraint of European Union membership.

One of the most efficient ways for credit investors to protect their holdings of U.K. government bonds—something they might want to do ahead of Thursday's referendum on remaining in the bloc—has been suppressed by Brussels and Berlin.
The market for credit-default swaps on sovereign debt, which allows investors to hedge against losses or speculate on an entity's creditworthiness, is so stifled there were no trades at all in U.K. CDS in the week ended June 10, according to the latest data available from the Depository Trust & Clearing Corp. In the previous week, just $110 million traded, and the week before that, $148 million.
Rewind five years. and weekly trading volumes in U.K. CDS were counted in the billions of dollars. An average of $1.7 billion of the swaps changed hands every week in June 2011, for instance.

It's not just U.K. contracts that have declining turnover. In 2011, it was not unusual to see $8 billion of trades each week on the Markit iTraxx SovX Western Europe Index of credit-default swaps on debt sold by countries from Austria to Ireland, yet last week none of the swaps were traded.
The sovereign CDS market's moment in the sun was as dazzling as it was short.
It came to life in the depths of the financial crisis, when investors awoke to the notion that national governments in Europe and the U.S. might not be quite so risk-free as previously considered as the countries assumed the bad loans of their respective banking systems. It died shortly thereafter when European lawmakers, led by German Chancellor Angela Merkel, attempted to curb certain trades as part of what she called a battle by governments to protect the euro against speculators.

The European Union banned naked default-swap trades on the debt of its member states in 2012—preventing traders from using the contracts unless they actually owned the underlying sovereign debt. That came after an independent ban by Germany the previous year. 

While the intention was to outlaw speculation on sovereign creditworthiness, the bans served to drain liquidity from the market, making it a less relevant place even for hedging purposes.

Still, if the U.K. votes to leave the EU on Thursday, trading in its CDS may pick up—not least because investors in what is left of the City of London may be able to put on naked short trades again.

Before it's here, it's on the Bloomberg Terminal.
LEARN MORE