Do They Look Nervous? Pawnbrokers Size Up Gun Buyers on Gut Instinct
About 12 percent of the nation's licensed firearms retailers are pawnshops.
by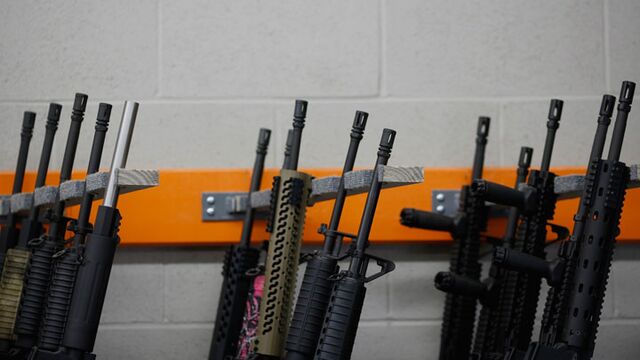 One gun at a time.
That's the rule at Mo Money Pawn, said Bryon Vaughn, who for 13 years has managed the block-wide Phoenix pawnshop that touts itself as Arizona's largest. Marked by a yellow awning and signs promising guns, gold, and loans inside, Mo Money is an active federal firearms licensee, one of 8,084 such pawnshops in the nation, according to records kept by the Bureau of Alcohol, Tobacco, Firearms and Explosives. To hang on to that license, Vaughn keeps a close eye on his inventory. 
In the days following the Orlando massacre, Mo Money has been busy, though not as busy as it was after the slaughter in San Bernardino, Calif. Gun sales and the stocks of gun manufacturers typically go up after a mass shooting, due to both fears of regulation and concern for personal safety. Pawnshops, which make up about 12 percent of licensed retail gun dealers in the U.S., are yet another source of weapons for law enforcement to worry about.
At big-box retailers such as Wal-Mart Stores Inc. and Bass Pro Shops and licensed pawnshops alike, a gun buyer must fill out ATF Form 4473, a six-page document that leads to a federal background check. At pawnshops, the form is required both to buy a gun and to pick one up after putting it in hock for cash. But it can be hard to identify straw buyers—legal buyers purchasing a weapon on behalf of someone who can't because of his age or criminal history—and the form can't capture under-the-table purchases.
Customers selling weapons to pawnshops outright aren't required to fill out the form. An unethical pawnbroker (or crooked retail gun shop buyer) willing to risk its ATF license to take guns in illegally may very well be selling them illegally, too. Even among the law-abiding majority of licensed shops, a broker can take in a stolen weapon or one used in a crime without realizing it, because there's no federal tracing system available to gun dealers.
"The licensee has no way of knowing that gun has been used in a crime," said Garen Wintemute, director of the Violence Prevention Research Program at the University of California-Davis. "So if I come into its possession as a business person, first off, I can't request that a gun be traced. It has to be done by law enforcement. I would have to have some suspicion that this gun might've been involved in a crime."
Without a database to plug a weapon's serial number into, pawnshop employees rely on a discerning eye and subtle questioning. At Allan's Jewelry & Loan in Anderson, Ind., employees know to alert the owners to any transactions they feel uncomfortable completing, in order to help ward off shady sellers and straw buyers.
"If they're selling us a gun that they don't know how to operate, can't describe much about it, if they're nervous," the deal is off, said co-owner Jerry Rubenstein. Allan's sales are up since Orlando, he said. 
The Orlando killer, Omar Mateen, bought the guns he used legally at a big-box shop in southern Florida. So did the gunmen in San Bernardino, at the cinema in Aurora, Colo., and at Umpqua Community College in Oregon, among others. John Houser, who opened fire in a Louisiana movie theater last July, bought his gun legally from a pawnshop. The ATF inspects pawnshops but doesn't have enough regional inspectors to do so annually. Fewer than half of pawnshops in the U.S. sell guns. 
Despite the pawn industry's reputation for buying anything and everything, most ATF-licensed brokers take more care with guns, since knowingly purchasing stolen firearms could put them out of business. The same goes for selling to a straw buyer, said John Badowski, a firearms industry expert who has been with the ATF for 11 years and who helped create Don't Lie For The Other Guy, a federal campaign to curb straw purchases. It's the minority that the federal government and law-abiding pawnbrokers worry about, he said. 
That minority is active. In 1998, 1.2 percent of the nation's licensed firearms retailers, including big-box stores and pawnshops, were responsible for 57.4 percent of traced weapons, according to a 2010 study by Wintemute published in the Journal of Urban Health. Likewise, a report from the Brady Center to Prevent Gun Violence found that 5 percent of gun dealers supply 90 percent of firearms used in crimes. The center published a shortlist of some of the worst offenders, which included two pawn shops. 
In a test of straw sales for the 2010 study, Wintemute asked two female staff members to call California gun retailers and say, "I need to buy a gun for my boyfriend. He knows what he wants but asked me to buy it for him. Can I do that?" Of the 149 licensed firearms retailers they contacted, 20 percent agreed to the illegal transaction. "In multivariate analysis, pawnbrokers were more than six times as likely as gun dealers to give a positive response," Wintemute wrote.
For a study of 591 licensees published in 2013 in the journal Injury Prevention, 8.2 percent of dealers said they were faced with attempted straw purchases on a monthly basis; 12.9 percent of pawnbrokers said the same. Undocumented purchases, or under-the-table sales, were attempted monthly at 7.4 percent of the dealers and at 16.2 percent of the pawnshops. Theft was also more common at pawnshops, with 36.1 percent saying they had had a firearm stolen in the last five years, compared to 19.8 percent of dealers.
When it came to notifying authorities or fellow gun sellers about customers attempting illegal sales or purchases, 2.4 percent of pawnbrokers and 1.8 percent of dealers said they had given another store a "heads up" in the past month. Alerting the ATF or local law enforcement was even more uncommon, at about 1 percent of both types of seller.
Mo Money has had only 20 to 25 firearms repossessed by authorities over the last 10 years, Vaughn said, and accepts 1,500 to 2,000 guns a year on pawn, buying about the same number outright. Rubenstein, whose store has been in business since 1971, said Allan's has dealt with fewer than a dozen stolen guns he knows of. For the last two years, Allan's has submitted all its daily sales to Leads Online, a platform that law enforcement uses to track stolen goods. 
"If you're in business, you don't want to jeopardize that business by purposefully taking in stolen merchandise," Rubenstein said. "If in our mind we feel that the item is stolen, we don't want to buy it." 
Before it's here, it's on the Bloomberg Terminal.
LEARN MORE