Commons Silenced in Display of Unity for Murdered U.K. Lawmaker
by and
Corbyn, Cameron lead tributes to Jo Cox in House of Commons

Cox 'believed in loving her neighbor's neighbor,' Corbyn says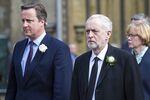 Labour Party leader Jeremy Corbyn and Prime Minister David Cameron led tributes to Jo Cox, the opposition lawmaker who was killed on Thursday, after Parliament was recalled from recess days before Britons decide whether to remain in the European Union.
Members of all parties wore white roses in tribute and a red rose and white rose were pinned to the back of the seat where Cox usually sat, as anecdotes and memories told of a woman committed to serving others and a champion of the poor and dispossessed. The circumstances of her death, shot and stabbed while meeting with constituents, were contrasted with her approach to the world.
"Jo Cox didn't just believe in loving her neighbor, she believed in loving her neighbor's neighbor, she saw a whole world of neighbors and believed every life mattered equally," Corbyn said. "Jo's life was a demonstration against despair, and in her tragic death we can come together to change our politics to tolerate a little more and condemn a little less."
Speakers appealed for less confrontational politics and criticized the "cheap populism" of those opposed to refugees and immigrants. Several drew a link between the death of Cox, an advocate of EU membership, and the tone of the campaign to leave the bloc in the June 23 referendum.
Twisted Patriotism
Cox was killed as she attended a meeting in the town of Birstall, northern England, in the first murder of a U.K. lawmaker in a quarter of a century. Thomas Mair, 52, who has been charged with Cox's murder, gave his name as "death to traitors, freedom for Britain" when he appeared in court on Saturday.
"Jo understood that rhetoric has consequences, when insecurity, fear and anger are used to light a fuse then an explosion is inevitable," Stephen Kinnock, who shared an office with Cox in the House of Commons, told lawmakers. "It is the politics of division, of fear, the harking back to incendiary slogans and the rhetoric of Britain First that twists patriotism from love of country into an ugly loathing of others."
Cox's family sat listening in the gallery as lawmakers told stories of her love for her son and daughter, passion for the causes she believed in and her loyalty to her friends. Some broke down in tears as they spoke of Cox's two children, aged three and five.
'Inspired by Love'
"Jo's politics were inspired by love," Cameron said. "May we and the generations of Members that follow us in this House honor Jo's memory by proving that the democracy and freedoms Jo stood for are indeed unbreakable, by continuing to stand up for our constituents, and by uniting against the hatred that killed her, today and for evermore."
After the Commons was adjourned, lawmakers trooped across the road to a church service in Cox's memory, the speaker reminding them that the parliamentary chaplain is available to counsel those struggling with their grief.
Cox was remembered as a mother, a wife, a daughter, a sister, a campaigner and a friend. There can't have been an hour in the history of the House of Commons in which the word "love" was mentioned more.
Before it's here, it's on the Bloomberg Terminal.
LEARN MORE