Brexit Vote Will Be 'Very Tight Result Either Way,' Hammond Says
by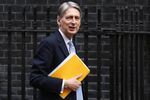 The U.K.'s vote on European Union membership could still be won by either side, Foreign Secretary Philip Hammond said, as Britain entered the final days of campaigning before Thursday's referendum.
Brexit Watch: The pound, the polls, and the probability of Brexit, all in one place
"The referendum battle in the U.K. is close-fought; it'll be a very tight result either way," Hammond told reporters in Luxembourg at the start of a meeting with his EU counterparts. "If Britain decides to leave, there will be no going back."
Hammond said he would be telling the other foreign ministers that the U.K. would expect "a speedy and complete implementation" of the package of reforms obtained by Prime Minister David Cameron at an EU summit in February should Britain vote to remain in the bloc.
Before it's here, it's on the Bloomberg Terminal.
LEARN MORE