U.K. Heartland's Voters Exasperated, Frustrated Over Brexit
by
In knife-edge race over EU membership, undecideds hold the key

Cameron concedes campaign 'confusing,' pledges more clarity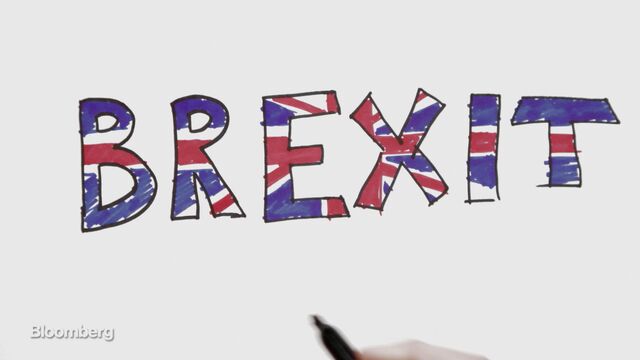 With just days to go before the vote that will determine Britain's place in the world, you wouldn't know it's happening in Beeston, in the center of England.
Brexit Watch: The pound, the polls, and the probability of Brexit, all in one place
There were no posters or signs on streets or in windows, no pins on lapels or buttons on shirts during a visit last week. What was on display in the town was frustration and exasperation at the claims of both sides in the campaign for Thursday's referendum over membership of the European Union.
QuickTake Will Britain Leave the EU?
Places like Beeston illustrate why the race remains neck-and-neck and increasingly desperate. Thirteen percent of voters are still making up their minds, according to a Survation poll published on Sunday, and it's a critical number, as in past referendums those deciding at the last minute have typically backed no change.
"The 'don't knows' have historically tended to shift towards the status quo," Adam Ludlow, a senior consultant at polling company ComRes, said in a telephone interview. "The golden question at the moment is whether the 'don't knows' will split towards the status-quo option enough to turn back the tide of the movement towards 'Leave' we saw in the past week."
Away from the certainties of the Westminster-based campaigns trying to win support for either side, residents are struggling to separate fact from fiction in Beeston, 125 miles (200 kilometers) from London and one of the areas of the country most evenly split over EU membership, according to analysis by Chris Hanretty of the University of East Anglia in Norwich.
Click here for a guide on what to look out for on the night of the vote count
"I've watched all the debates, read lots of stuff, but it's still not clear," Helen Bastable, 48, a college administrator, said on Wednesday. "There seems to be a lot of back-biting, pointing fingers and political maneuvering, but I want a clearer picture than them arguing among themselves."
A poll by ComRes last week showed 53 percent don't feel they know any more about the EU after four months of campaigning, and Prime Minister David Cameron confessed in a BBC Television special on Sunday evening that he needs to do more.
"People have found this debate and all the facts and figures perhaps quite confusing," he said in a question-and-answer session that marked the end of a lull in campaigning following the killing of Labour lawmaker Jo Cox. "I've got four days to go, I've got to do better at getting the argument across."
'It's Disgraceful'
In Beeston, those who have made up their minds how to vote were no happier than the undecided with the diet of information they've received from campaigners and the media.
"The exit people have covered us in lies: I had a leaflet through the door with six points and each one was a lie -- it's disgraceful," said Richard Brooksbank, 89, a retired electronic engineer who has already voted by post to stay in the bloc. "We're up to the neck in Conservative Party propaganda."
The allegation cuts both ways. Derek Wigginton, 71, a "Leave" voter who runs a guitar shop in Beeston across the street from House of Commons lawmaker Anna Soubry's office, was equally dismissive of assertions made by those who want to stay in. He said that in the face of the blizzard of claims and counter-claims he's voting on instinct.
'Financial Wizards'
"The governor of the Bank of England and big business leaders say it will be bad if we leave, but you have to question these financial wizards -- where were they before the crash in 2008?" he said. "Whether we're in or out, I don't think it will make a great deal of difference."
Among Beeston's rows of Victorian houses and postwar shopping precincts, there was little love for the messengers from each side. The London elites fronting the campaigns could be a world away, not just the hour-and-a-half it takes to reach the capital by train.
Former London Mayor Boris Johnson, like Cameron educated at Eton, Britain's most exclusive private school, used his Monday column in the Daily Telegraph, a newspaper usually seen as embodying the Conservative establishment, to urge voters to make a stand against the "corporatist and elitist system" by voting to leave the EU.
"They don't live in the same reality as us, they live in a reality of Eton and inheritance, they function in a different world," Alex Hanford, 28, an unemployed geophysicist, said as he walked a dog near the town center. "It's like a joke to them, they don't know what it's like growing up and living around here."
'Socialist Case'
Hanford, a Labour voter, said he was "confused" about which side to support. "Most of the 'Leave' stuff is right-wing, but there's also a left-wing socialist case for getting out," he said. An admirer of Labour leader Jeremy Corbyn, Hanford said he may follow his call to vote to stay in the EU.
The Beeston area has a higher proportion of over-65s than most of the U.K., with 19 percent compared with a national average of 16 percent, and there was evidence that, at least for some, the "Remain" campaign's lines about the legacy left for future generations are breaking through.
Jenny Caseldine, 73, on a break from a watercolor-painting course at Beeston's Conservative Club, said she wants to remain in the EU on behalf of her grandchildren; adding that none of her friends would be voting the same way.
'Absolutely Bonkers'
"Every single one of my friends and contemporaries think I'm absolutely bonkers," she said as she waited at the bar for her coffee to be poured. "They're all in their 70s and want to go back to the way things were, but it'll never go back."
Caseldine then sat down with two classmates, both pensioners, and was surprised to discover they too had decided to vote to stay in the 28-nation bloc. Remain campaigners will hope they are evidence of "shy remainers," like the "silent no" voters who blocked Scottish independence in 2014.
"More than anything, I'm angry that we're even being asked the question, it's let loose all this political posturing," Bastable, the college administrator, said, adding that she probably won't make up her mind until Thursday. "It'll come down to making a decision in the polling booth, which is a terrifying prospect if lots of people think that."
Before it's here, it's on the Bloomberg Terminal.
LEARN MORE