Schaeuble Says EU Set to Avoid Chaos If Britons Vote for Exit
by
Says Brexit debate means geopolitical risk for policy makers

German finance chief renews warning on excessive liquidity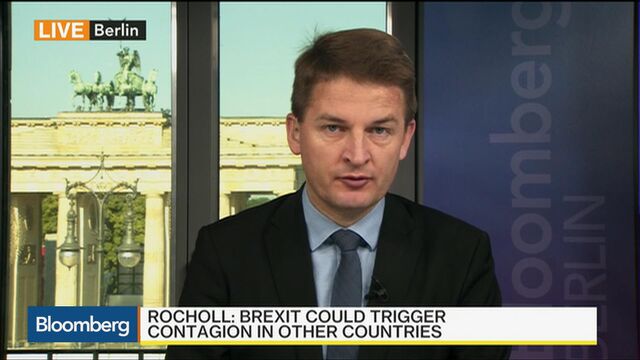 German Finance Minister Wolfgang Schaeuble said European Union policy makers have safeguards in place to avoid "chaotic developments" should Britons vote to leave the bloc.
"Ultimately you have to wait for Britons to decide and then you have to respect the decision," Schaeuble told reporters Sunday after a speech at the Institute for the World Economy in Kiel, Germany. "But it's also clear that then you have to do everything possible to avoid chaotic developments. We are well-prepared for that."

If the U.K. left, the EU couldn't just continue with business as usual because "otherwise many would get the same idea," he said.
While Schaeuble didn't elaborate, his comments jibe with similar assurances from other leading EU officials such as European President Donald Tusk. Four days before Britons vote on whether to exit the European Union, Schaeuble -- a strong advocate of the U.K. staying in -- singled out the Brexit as a geopolitical risk.
Other reasons for "for the high level of nervousness and volatility in the markets" include Islamist terrorism, armed conflict in eastern Ukraine and an "excess of liquidity and debt," he said in a speech at the Kiel institute earlier Sunday. Those excesses are compounding market turmoil as central banks reach the limits of measures to boost growth, according to Schaeuble.
"For many authorities, there's still a great temptation to buy time with money that one doesn't have," Schaeuble said. "Fiscal and monetary policy measures have reached their limits."
Schaeuble is the most prominent voice in German Chancellor Angela Merkel's government to question central-bank policies, once suggesting that ECB President Mario Draghi should share the blame for the rise of the Alternative for Germany party.
Before it's here, it's on the Bloomberg Terminal.
LEARN MORE