Labor Bottlenecks Now Imperiling Sweden's Economic Boom Times
by
Refugee inflow exacerbates housing shortage in large cities

OECD sees risk of productivity crisis in Swedish economy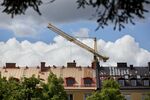 A lack of available labor is emerging as one of the biggest threats to the Swedish economic boom.
It's most acutely felt in the construction industry, which is bumping up against its capacity limits in a race to provide housing as a record inflow of refugees swells the population in the largest Nordic nation.
"Everyone is pretty much running at full operation," Peter Wagstroem, chief executive officer at construction firm NCC AB, said in a phone interview this month. "We can't really see that the pace of construction can increase that much more in relation to the resources."
The shortage of housing is having a profound effect on the economy, with even companies such as Spotify complaining that it can't recruit workers because there are no places to live in Stockholm's tightly regulated real estate market. The scant supply has also pushed up house prices and debt burdens to what the central bank warns are unsustainable levels.
Sweden's construction-fueled economic growth slowed to an annual 4.2 percent in the first three months of the year from 4.9 percent at the end of 2015, among the fastest in the European Union.

Companies such as NCC are turning increasingly to Poland to find workers. But it also started a program to target engineers among the 250,000 refugees that have arrived since 2014. Statistics show that construction employment slid 0.9 percent last year, even though the pace of construction was the highest since the early 1990s. In reality, jobs were filled by Polish and Baltic workers not captured in statistics.
Even if construction has increased, the number of built homes is nowhere near the required level of 700,000, given estimates that the population will soon top 10 million.
Getting the refugees, many of whom lack higher education, into the labor market will be one of Sweden's biggest challenges.
According to Haakan Gustavsson, head of forecasting at Sweden's Public Employment Service, the labor shortage is "palpable" and many sectors won't reach their full growth potential.

Integrating refugees is a huge challenge and all companies "need to help, have to help" by recruiting more broadly, said Gustavsson.
The real tension concerns efforts to open up more jobs at the lower end of the wage scale, which labor unions oppose. Almost half of the newly arrived refugees lack secondary education, which is seen as the minimum education level to get a job in Sweden.
The country's labor market isn't really prepared for that kind of challenge and "enormous education initiatives" are needed, Gustavsson said.
"We want to hire people in Sweden," Wagstroem, the NCC boss, said. "The needs and the production peaks that we need to solve, we can solve through recruitment from Poland. But of course, our aim is to increase the number of people in Sweden with foreign backgrounds."
Sweden has smaller wage differences between high-skilled and low-skilled workers than most other developed countries, according to Catherine Mann, chief economist at the OECD. 
"The highest-level skills and the lowest-level skills are pretty similar in wage," Mann said in an interview during a visit this month. "If you compare it to the rest of the OECD, other countries have a much steeper curve."
The result is that employment among lower-skilled workers is about 7 to 8 percentage points lower. And now with a tide of such workers flowing in, tensions will grow between the desire to have a flat wage distribution and the need to have people in the workforce, Mann said. One way to solve this may be to push down hiring costs for unskilled labor through tax credits, for example.

"The unions owe everyone an answer on how they can facilitate the recruitment of newly arrived refugees, but there's a tendency for everyone to look after their own interests," said Knut Hallberg, an economist at Swedbank. The limited progress in the housing talks shows that there's obviously "interest organizations who are putting a break on the process, for example the Swedish Union of Tenants."
The OECD warns that Sweden will eventually face a productivity crisis, partly caused by housing shortage.
"The problem doesn't go away if you don't have a plan, it just ends up perhaps going underground," Mann said. "That is erosion of the system, of social cohesion, and you don't want to have that as the outcome."
Before it's here, it's on the Bloomberg Terminal.
LEARN MORE