Italy's Five Star Inflicts Setback on Renzi With Anti-Elite Win in Rome
By and
Lawyer Virginia Raggi wins landslide in Italian capital

Five Star Movement gains threaten premier's reform agenda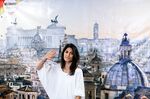 Italians elected candidates of the anti-establishment Five Star Movement to run city halls in the capital Rome and Turin in the north, in a setback for Prime Minister Matteo Renzi's plans to overhaul the country's political system.
Virginia Raggi, a 37-year-old lawyer turned politician, took 67.2 percent of the vote in Rome, trouncing center-left candidate Roberto Giachetti with 32.8 percent, the Interior Ministry said early Monday. In Turin, once the country's industrial heartland, Raggi's Five Star colleague Chiara Appendino won the mayor's race with 54.6 percent of the vote, defeating incumbent mayor Piero Fassino with 45.4 percent.
The plunge in popularity for Renzi's Democratic Party in the two key cities threatens a make-or-break referendum that he has scheduled for October on a proposed overhaul of the Senate that's aimed at ending Italy's long history of revolving-door governments. Renzi, 41, has promised to step down if he loses the referendum, which would curtail the upper house's power to bring down governments with no-confidence votes.
"The election results do suggest that Renzi isn't on such firm ground as investors might hope," said Chris Scicluna, an economist at Daiwa Capital Markets Europe in London. "And they do smack of populism. But with the weekend's U.K. polls showing a notable shift in support towards the Remain camp, equity markets are up everywhere today and Italian sovereign spreads have narrowed, just like in Spain, Portugal and Greece."
Milan's FTSE MIB Index rose 2.2 percent to 17,297.79 as of 10:20 a.m. local time. The yield spread between Italy's 10-year bonds and similar German securities narrowed 9 basis points to 140 basis points.
Despite the setbacks in Rome and Turin, Renzi's candidate in the financial capital Milan, Giuseppe Sala, won the mayor's race with 51.7 percent of the vote over center-right candidate Stefano Parisi with 48.3 percent.
"No one should dramatize the outcome, and no one should minimize it," Renzi said in a late afternoon news conference. "The people in several cities have given a message that must be a cause for reflection for the Democratic Party."
He said party leaders would meet on Friday, and called the Five Star Movement's gains a "very clear" victory.
Raggi's win is the biggest victory so far for the euro-skeptic Five Star and a loss for Renzi's Democratic Party. Rome's former mayor, Ignazio Marino of the Democratic Party, stepped down in an expenses scandal.
Raggi has promised to overhaul the city's crippling bureaucracy and tighten checks on public contracts, a key source of corruption.