China's Housing Market in Flux as Price Recovery Tapering Off
Bloomberg News
New-home prices gained in 60 cities in May versus 65 in April

Average new-home price growth slows first time since October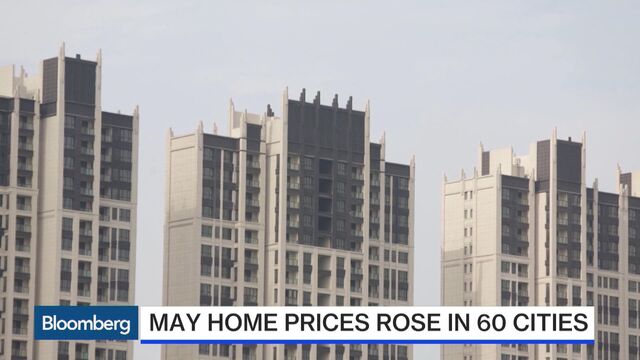 The recovery in China's housing market that helped underpin the economy in the first half is showing signs of tapering off.
New-home prices excluding government-subsidized housing climbed in 60 cities in May, down from 65 in April, among the 70 tracked, the National Bureau of Statistics said Saturday.
With less of a boost from a recovering property market likely in the second half, the government will need to find other drivers such as infrastructure investment to meet its growth goal of at least 6.5 percent this year, according to Shen Jianguang, chief Asia economist at Mizuho Securities Asia Ltd. 
"The housing market is in flux," Shen said. "The government is likely to step up policies to encourage home-buying in places where demand is weak and inventories of unsold housing are still high as the destocking policy didn't yield the expected results."
Faced with a massive pile of unsold homes in smaller cities, the government and central bank since late 2014 had unleashed a range of measures aimed at improving demand for homes to clear the overhang. While inventory levels may not have budged much, mortgage demand has, rising to a record last month, according to the latest data from the central bank.

Still, the recovery in home prices last month abated as local governments put curbs in top economic centers like Shanghai and Shenzhen where prices have been surging, while they deployed home-buying stimulus in smaller cities to clear the glut of unsold residences.
"This market rebound since last May has been fueled by credit and easing measures, making it unsustainable in some regions," said Xia Dan, a Shanghai-based analyst at Bank of Communications Co. "Now the recovery is almost hitting the ceiling."
Growth Abates
Out of 60 cities with price gains last month, 36 had slower increases than in April, leading overall growth to "abate," according to the statistics bureau. The average new-home price rose 0.84 percent in May from April, down from 1.03 percent in the previous month and slowing for the first time since October, according to Bloomberg calculations based on government data.
Price gains slowed in some of the largest cities, indicating tightening measures have started to take effect. Values rose 2.3 percent in Shanghai, a slower pace than in April, while Shenzhen saw a gain of 0.5 percent, down from 2.3 percent the previous month. The two cities, where residential-price gains topped the nation earlier this year, tightened buying criteria for non-resident homebuyers, raised down-payment requirements for some second homes and banned unregulated lending. 
Housing policy will show more divergence in the second half, according to Niu Li, economist at the State Information Center affiliated to the National Development and Reform Commission.
"The question in big cities for officials will be how to curb prices, while in some of the smaller places prices are too high for inventory to come down," he said.
The port city of Xiamen in the southern province of Fujian led gains in May, with prices climbing 5.5 percent from April and 28.3 percent from a year earlier. Hefei, the capital of the eastern province of Anhui, saw a gain of 5.1 percent from the prior month and 23.3 percent from a year earlier.
Second Tier
While stoking sales in smaller cities to reduce an oversupply, policy makers are also being vigilant about the threat of financial instability in the housing market, an unwelcome risk for an economy that last year saw the slowest economic growth in a quarter century. Central bank Governor Zhou Xiaochuan told banks in March to reduce risk by better assessing customer credit worthiness in mortgage lending and said unauthorized loans by real-estate agents increase the chance of bad debts. 
Existing-home prices rose in 49 cities in May from a month ago, compared with 51 in April. They dropped in 13 and were unchanged in eight.
Prices in May gained in 74 cities among the 100 tracked by SouFun Holdings Ltd., the owner of China's biggest property website, compared with increases in 71 the previous month. Average new-home prices rose 1.7 percent, a slower pace than increases of 1.45 percent seen in March.
— With assistance by Yinan Zhao, and Emma Dong
Before it's here, it's on the Bloomberg Terminal.
LEARN MORE