Brexit Campaign Resumes With Migration Debate After Cox Killing
by and
First poll since MP's death shows 'Remain' overtaking 'Leave'

Osborne says he hopes U.K. debate will become 'less divisive'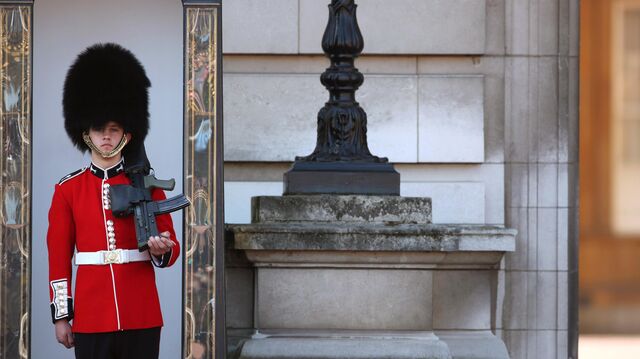 The Brexit campaign resumed on Sunday with disagreements over immigration as both camps sought to tone down their rhetoric after the killing of Labour Party lawmaker Jo Cox and new polls showed "Remain" with a slight lead.
Prime Minister David Cameron wrote in the Sunday Telegraph that there would be "no turning back" from quitting the EU, which would trigger a "probable recession." In the same newspaper, pro-Brexit Justice Secretary Michael Gove said rather than suffering a recession, the U.K. would thrive outside of the EU and urged a "vote for hope."

Cox's death after being attacked on Thursday sparked soul-searching within British politics over the increasingly rancorous tone of the debate over the U.K.'s EU membership, ahead of a June 23 referendum.
"I hope because of the tragic death of Jo we can have a less divisive political debate in our country," Chancellor of the Exchequer George Osborne said Sunday on ITV television's "Peston on Sunday" program. "This referendum vote is a vote on the kind of Britain we want. Do we want a prosperous outward looking Britain that's leading in Europe or do we want a meaner, narrower Britain that is poorer in every sense of the word?"'
Thomas Mair, charged with murder, gave his name as "death to traitors, freedom for Britain" in a court appearance on Saturday.
'Remain' Lead
In a sign attitudes may be shifting, the first poll conducted since her death put "Remain" ahead after most polls in recent days showed "Leave" with a lead or gaining ground. Staying in the bloc won 45 percent support in the Survation telephone poll of 1,001 adults on Friday and Saturday for the Mail on Sunday. "Leave" was endorsed by 42 percent, reversing positions from Survation's previous survey.
"We did have momentum until this terrible tragedy," U.K. Independence Party Leader Nigel Farage said on Peston. "It's had an impact on the whole campaign for everybody."
The probability of a vote to leave declined to just under 30 percent on Sunday from almost 40 percent on Wednesday, according to bookmaker odds processed by the Oddschecker website. It's the biggest drop in almost two weeks.
Immigration


A survey by YouGov Plc for the Sunday Times, a third of which was conducted before the attack, showed "Remain" on 44 percent and "Leave" on 43 percent. The pollster said it doubted the rise in backing for the EU was tied to Cox's killing and suggested it may relate more to concerns about what Brexit would mean for the economy.
The death of Cox, a fervent supporter of remaining in the EU, created a dilemma for the "Leave" campaign, which has focused its campaign on the public's concern with immigration levels. Cox was both a defender of immigrants and of refugees from Syria. 
In an article written four days before she died, Cox said the public had "legitimate concerns" about migration, but that a Brexit wouldn't guarantee lower migration levels.
"We can do far more to deal with the pressures caused by migration from inside the EU," Cox wrote in the article on the politicshome.com website, that was reprinted in the Mail on Sunday.

Farage's Poster
On the day Cox died, Farage had unveiled a poster showing a column of refugees, with the headline "Breaking Point." Osborne, in his interview, said the image "had echoes of literature used in the 1930s," while Gove on BBC television's "The Andrew Marr Show" said he "shuddered" when he saw it.
"I thought it was the wrong thing to do," Gove said. He defended the right of the "Leave" campaign to highlight as a concern the possibility that Turkey might join the EU, even though Cameron has said it isn't likely until the year 3000 given the pace of progress.
Free Movement
"The far right have been allowed to grasp the agenda," Labour Party Leader Jeremy Corbyn said on Sunday on the Marr show. He cited Farage's "appalling poster" of "desperate people fleeing from war saying they're coming to threaten us."

In a comment that could boost the "Leave" campaign, he said he didn't think it's possible to set an upper limit to immigration into the U.K.
"I don't think you can have one while you have free movement of labor," he said. He said the solution was to ensure that across the bloc, workers are "paid the relevant local rate," which would "probably" reduce migration levels.
'Negativity'
Farage said Corbyn's comments on immigration are "irresponsible," and said he thought he's been a "victim" of hatred rather than one who stokes it.
"When you challenge the establishment in this country, they come after you," Farage said, pointing to Osborne's remarks minutes earlier. "Quite frankly when it comes to negativity and rhetoric, we've seen far more of it from the 'Remain' side."
While immigration has dominated the 'Leave' campaign, the 'Remain' camp has sought to steer the argument back to the risk to the economy of a Brexit.
Cameron will discuss the issues on a special edition of the BBC's "Question Time" on Sunday evening, while Osborne said Sunday that Britain would be "a lot poorer" after a vote to leave.
"If we vote to leave there is no running back," he said. "It's a one-way door to a much more uncertain world where people's jobs and their livelihoods are at risk."
His message was buttressed by business leaders including WPP Plc Chief Executive Officer Martin Sorrell and Barclays Plc Chairman John McFarlane who signed an open letter that argues that "EU membership is good for business and good for British jobs," according to the Sunday Times. A letter to the Sun on Sunday, signed by 37 executives including Patisserie Holdings Plc CEO Luke Johnson, said small firms will thrive after leaving the Brussels "straitjacket."
Before it's here, it's on the Bloomberg Terminal.
LEARN MORE