BHP-Vale Mine, Crippled by Dam Spill, Said in Restructure Talks
by , , and
Brazil venture explores restructuring $1.6 billion of loans

Samarco hires JPMorgan, lenders working with FTI Consulting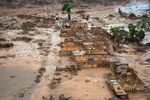 BHP Billiton Ltd. and Vale SA's Brazilian mining joint venture is exploring ways to restructure about $1.6 billion in loans months after a deadly accident halted output and crimped cash flow, people with knowledge of the matter said.
Iron-ore miner Samarco hired JPMorgan Chase & Co. as it discusses restructuring debt with banks, three of the people said, asking not to be identified because the early-stage talks are private. BHP hired Rothschild & Co., Vale is getting advice from Moelis & Co., while the banks are working with FTI Consulting Inc., the people said.
While Samarco's dollar-denominated bonds don't start maturing until 2022, the mine probably won't be able to service all of its obligations as it grapples to resume operations after a Nov. 5 tailings dam collapse killed as many as 19 people, the people said. So far, it hasn't missed any payments, they said.
The mining company, known formally as Samarco Mineracao SA, and its owners declined to comment, as did JPMorgan, Moelis and Rothschild. FTI didn't respond to e-mails and calls seeking comment.
Samarco reported about 15 billion reais in debt ($4.4 billion) at the end of 2015 and 1.8 billion reais in cash. Its obligations include about 328 million reais of payments this year and 324 million reais in 2017, the company said. While most debt is held with international creditors, guarantees were provided by local lenders including Banco Bradesco SA, Banco Votorantim SA and Itau Unibanco Holding SA, Samarco said.
Restart Plans
Yields on the 2022 bonds have jumped since the end of April amid legal action against the dam spill and expected delays in re-starting a mine that is its only cash-producing asset. On June 15, Samarco said it is yet to secure licenses needed to resume operations, and the possibility of that happening this year is becoming remote.
Iron ore futures declined 0.7 percent to 370 yuan ($56.24) a metric ton on the Dalian Commodity Exchange at 12:35 p.m. Sydney time. In Singapore, the SGX AsiaClear contract for September declined 0.1 percent to $45.29 a ton.
Vale warned last month over continued volatility in iron ore prices after the steelmaking material retreated following a surge in the three months to mid-April. 
"We'll have to prepare for tougher periods," Claudio Alves, Vale's global director of iron ore marketing and sales, told an industry conference on May 19 in Singapore. Melbourne-based BHP is more bearish on iron ore prices than any other commodity in its portfolio, Chief Executive Officer Andrew Mackenzie said in March.

In March, Samarco reached an agreement with Brazilian authorities to pay out about 12 billion reais over 15 years. The settlement was ratified by a federal judge in May after prosecutors lodged a claim for more than $40 billion, alleging the dam burst was partly attributable to an increase in production levels.
On Friday, Brazilian authorities fined Samarco 143 million reais for damage to the coastal environment, a wildlife refuge and a biological reserve in Espirito Santo state, according to e-mailed statement.
"Even if both BHP and Vale have stood firm behind their JV publicly, the depressed environment for iron ore prices, which have fallen 22 percent since reaching a peak in late April, does not provide much incentives for a quick return to full production," Cedric Rimaud, director of emerging markets research at Gimme Credit, wrote Monday in a note to clients. "We continue to be cautious on Samarco's bonds and reiterate our 'underperform'."
Before it's here, it's on the Bloomberg Terminal.
LEARN MORE