VW Said Ready With $10 Billion Diesel Plan, to Devise Fix Later
by
Carmaker still needs regulatory approval for retrofitting cars

VW faces June 28 deadline for submitting diesel-cheat remedy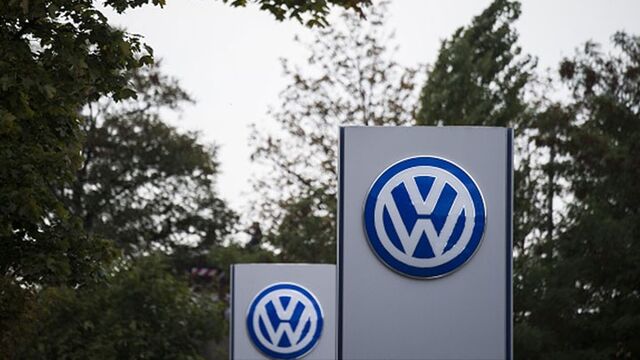 Volkswagen AG  will submit its $10 billion plan this month to fix a half-million emissions-cheating cars or get them off U.S. roads even though it's awaiting regulators' sign-off on how to retrofit the vehicles, a person familiar with the matter said.
About $6.5 billion will go to car owners and $3.5 billion to the U.S. government and California regulators, said the person, who asked not to be identified because the deal isn't public yet. Because the U.S. Environmental Protection Agency and the California Air Resources Board haven't approved VW's proposed fixes, the deal as of now includes an option for car owners to request their vehicles be repaired, but there's no timetable for doing so or a guarantee there will be an approved fix, the person said.
Lawyers for car owners are due to submit the proposed deal to the San Francisco federal judge overseeing U.S. lawsuits by June 28. The settlement will include options for car owners to sell their vehicles back to Volkswagen or to terminate their leases early.
Terms of that agreement may change between now and then, the person said. The judge is scheduled to consider the proposal, along with the carmaker's agreements with regulators, on July 26 before deciding whether to accept it.
Jeannine Ginivan, a Volkswagen spokeswoman in the U.S., declined to comment on the proposed agreement. Spokesman for the Environmental Protection Agency and California Air Resources Board didn't immediately respond Saturday to messages seeking comment on it.
For a QuickTake explainer on Volkswagen's emissions scandal, click here.
The proposal is intended to further the German carmaker's bid to regain consumer confidence while appeasing regulators after admitting in September that it rigged the exhaust system in 11 million diesel cars worldwide to feign compliance with global emissions standards. Chief Executive Officer Martin Winterkorn stepped down less than a week after the news broke, and Volkswagen has so far set aside 16.2 billion euros ($18.3 billion) to cover the costs of the scandal, including repairs and lawsuits.
VW shares have fallen more than 6 percent in Frankfurt since both sides told U.S. District Judge Charles Breyer on April 21 that they had a preliminary agreement.
Proposed Deal
Under the proposed deal, vehicle owners can register to have their car repaired but will be told that it may never actually happen, the person said. Volkswagen has capacity to handle about 5,000 vehicles each week under the settlement, according to the person, meaning it may take almost two years before all 482,000 are addressed.
"There's just no precedent for what happens if there's not a fix,'' said John German, a project manager with the International Council on Clean Transportation, an environmental public-policy group in Washington. "We just don't know. It's all speculation.''
For more on Volkswagen's plan to rebound from the diesel-cheating scandal, click here
The company isn't entirely out of the woods if the plan is approved. State or federal regulators could still impose as-yet undetermined fines depending on the number of cars that remain on the road and the pollution from them, the person said.
Volkswagen is also subject to lawsuits in Germany and still faces a criminal probe there as well as in the U.S. Prosecutors in Germany are looking into allegations against a VW employee who might have encouraged other employees to delete or remove data. Prosecutors also said most of the data has been recovered in the meantime.
The diesel-cheating scandal has sent shock waves across the industry and triggered VW's first annual operating loss since 1993. Admissions of manipulation and allegations of cheating by other carmakers have pressured authorities to step up scrutiny of real-world emissions and fuel economy.
In an effort to rebound, Volkswagen Chief Executive Officer Matthias Mueller has mapped out a sweeping strategy overhaul focused on electric cars, automated driving and services such as ride-hailing. The shift will entail more than 10 billion euros ($11.2 billion) in investments by 2025, which will be financed in part by cost-cutting at the namesake VW brand and bundling together its fragmented parts operations, the company said Thursday at a press briefing at its Autostadt exhibition center in Wolfsburg.
The case is In Re: Volkswagen "Clean Diesel" Marketing, Sales Practices and Products Liability Litigation, MDL 2672, U.S. District Court, Northern District of California (San Francisco).
Before it's here, it's on the Bloomberg Terminal.
LEARN MORE