NATO 'Saber-Rattling' Maneuvers Unhelpful, Steinmeier Tells Bild
by
Eastern Europe maneuvers sending wrong message to Russia

German foreign minister comments ahead of July 8 NATO summit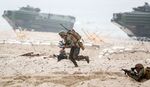 NATO maneuvers in Poland and the Baltic states risk raising tensions with Russia at a time when more talk and cooperation are necessary to avoid fresh confrontations, German Foreign Minister Frank-Walter Steinmeier told Bild newspaper in an interview.
Military personnel from the 28 member states of the North Atlantic Treaty Organization this month practiced operations in the first large-scale maneuvers in about a decade, raising concerns for renewed tensions with Russia. 
"What we shouldn't do now is to add fuel to the fire with loud saber-rattling and war cries," Steinmeier said, according to the paper. "Whoever thinks it's helping security to have symbolic tank parades at the Eastern European border is wrong."
Steinmeier's comments come ahead of a planned NATO summit starting July 8 in Warsaw, where foreign ministers are to finalize plans for strengthening the group's military presence in Eastern Europe. The plan includes stationing about 4,000 troops in Poland and the Baltic states to send a signal it would defend member states against an aggressive Russia.
"It would be fatal to narrowly focus on military action," Steinmeier said. "We need to re-engage with our partners on disarmament and arms control for security in Europe."
Before it's here, it's on the Bloomberg Terminal.
LEARN MORE