Yen Drop Proves Fleeting as Bulls Ignore Aso Warning on Strength
by and
Japan's finance minister calls for G-7, G-20 coordination

Dollar-yen at 102 would trigger official jawboning: Macquarie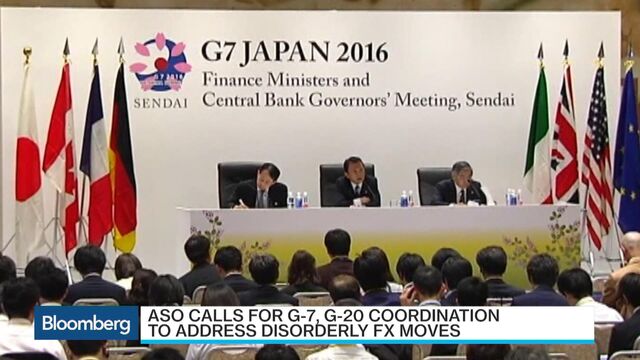 The yen erased its earlier decline as traders doubted Japan's ability to rein in the currency's rally to a 22-month high on Thursday.
The currency had weakened as much as 0.6 percent after Finance Minister Taro Aso escalated his rhetoric expressing concern about its surge. He called for coordination with Japan's foreign counterparts to address what he described as disorderly moves in foreign-exchange markets.
The yen rose against all its major peers on Thursday after the Bank of Japan refrained from adding to currency-sapping stimulus and as Britain's looming vote on European Union membership drove investors to safer assets.

"We should see the yen strengthen heading into the EU referendum," said Eimear Daly, a currency strategist in London at Standard Chartered Plc. "It's your classic safe-haven currency," she said, and given the "substantial uncertainty" in world markets, the dollar-yen rate may move "lower from here."
Longer term, though, she expects the BOJ to expand its unprecedented monetary stimulus, which will help weaken the Japanese currency.
The yen was little changed at 104.23 per dollar at 7:15 a.m. in New York, a day after climbing to 103.55, the strongest level since August 2014. It's up 2.7 percent this week -- again, beating all 16 major peers tracked by Bloomberg.
Jawboning Beckons
Japan's currency weakened 0.2 percent to 117.30 to the euro, which climbed 0.3 percent to $1.1257. The pound rose 0.4 percent to $1.4265, after dropping to a more than two-month low on Thursday.
Traders are about the most bullish on the yen in six years. The premium for one-month options to buy the yen versus the dollar, over the cost of contracts to sell, widened to 3 percentage points on Thursday, the most since 2010, according to end-of-day risk-reversal prices compiled by Bloomberg. The gap was at 2.8 on Friday.
Aso, who is also deputy prime minister, said Friday that he wants to take "firm action" in line with Group-of-Seven and G-20 agreements on avoiding unstable currency markets. Yet there's no indication from the G-7 that they're open to joint intervention. The last time Japan sold yen to restrain gains was in 2011, in a multilateral intervention following the devastating earthquake and tsunami.
"The dollar-yen slide is not over yet," said Gareth Berry, a foreign-exchange and rates strategist in Singapore at Macquarie Bank Ltd. "That trend will continue until we get to 102, at which point I would expect rhetoric from Japan to reach fever-pitch, and that should be enough to stop it in its tracks for a while."
Watch Next: Is Japan's FinMin Right to be Worried About Yen's Rise?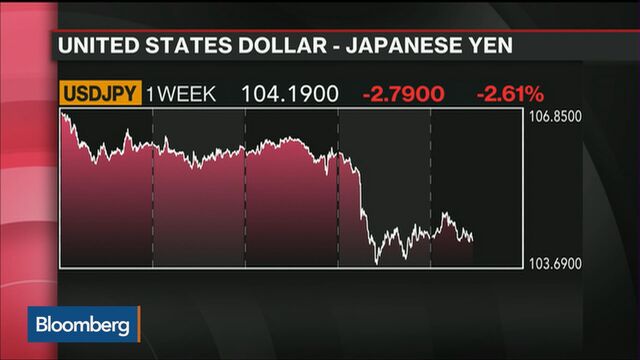 Before it's here, it's on the Bloomberg Terminal.
LEARN MORE