Moody's Analytics Says Yen May Rise as Another Lost Decade Looms
by
GDP growth expected to be 0.6% in 2016, 1% for rest of decade

'Abenomics has failed to reignite the Japanese growth engine'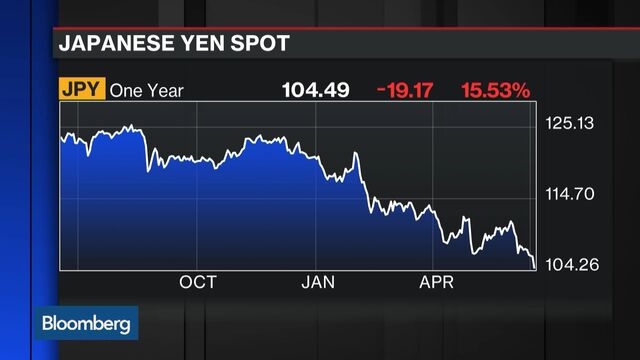 Japan is headed for another lost decade as the economy faces prolonged stagnation and the yen will probably strengthen more as deflation continues, Moody's Analytics said.
The yen surged to its strongest level in almost two years against the dollar Thursday, touching 103.55, after the Bank of Japan held back from adding stimulus while the Federal Reserve signaled a slower approach to interest-rate increases. Prime Minister Shinzo Abe decided to delay a hike in the nation's sales tax earlier this month as economic growth remains lackluster.
"Economic stagnation is set to continue," said Faraz Syed, an economist at Moody's Analytics, in a report dated Thursday. "The much touted Abenomics has failed to reignite the Japanese growth engine."
Moody's Analytics expects Japan's gross domestic product to expand by 0.6 percent in 2016 and an average of only 1 percent a year for the remainder of this decade. Average growth was 4.5 percent from 1980 to 1990, according to the report.
The Japanese currency may be undervalued against the dollar by 14 percent, based on a purchasing power parity measure, according to the firm. While BOJ Governor Haruhiko Kuroda said at a news conference Thursday that the central bank won't hesitate to add stimulus if needed and reiterated its 2 percent inflation goal, Syed said it is now unlikely the bank will reach that target.
Only small wage increases are likely over the next few years as inflation expectations drop, meaning that consumers' higher purchasing power probably won't last long, Syed wrote. The rising yen is putting an end to Japan's mini export boom and geopolitical risks such as the possibility of the U.K. leaving the European Union are adding to uncertainty, according to Syed.
Before it's here, it's on the Bloomberg Terminal.
LEARN MORE